The Hancock-Henderson Quill, Inc.
---
A Remarkable Lady, Retiring Librarian, Anita Smith
By Virginia Ross, For The Quill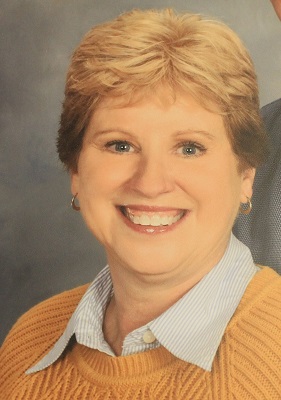 Public servants work tirelessly for our benefit and oft times we ignore their faces and they blend into the job. 
Not so with retiring librarian Anita Smith.  She made it a point to greet with a welcoming smile any patron opening the doors of the Henderson County Public District Library in Biggsville, Illinois. 
Always planning for new ways to stretch tax dollars to offer fun, informative and unique events, she listened intensely to suggestions and many times used these ideas to improve the library's footprint in the county. 
Whether a small child wanted to read a book about alligators, a busy trucker sought the latest John Grisham on audio, a young mother needed a Christmas cookie cookbook, a senior citizen asked for advice about an internet site or a farmer was looking for a copy of a W-4, Anita took time to help.
Anita, daughter of Mr. an Mrs. Bill Campbell of the Biggsville area, attended school in Henderson County and she credits Mrs. Catherine Corzatt, her kindergarten teacher, and Mrs. Blanche Galbraith, her first-grade teacher, as sparking the love of books and reading such as "Dick and Jane."  These she has shared with her own children and grandchildren as well as numerous other little ones at the library.
The family moved to Orlando, Florida, and there at the age of 13, she worked at Walt Disney World.  She graduated from Oakridge High School, Orlando, Florida in 1978. In 1979 she married Bruce Smith and are the parents of two children and 3 grandchildren.
She began her career at the Henderson County Public Library District on December 6, 1991 as circulation and inter-library loan clerk.  As a condition to hiring, the board of trustees required all employees to have a CDL in order to drive the Bookmobile as needed.So, of course, she added this to her skill set. 
At this time circulation depended on a card charging machine with a card catalog for searching for books.  As computers arrived with barcodes, she trained for the Follet Computer System which allowed every item in the library to have a correct record for the Resource System Alliance.  In 2008 RSA began training all library staff to use Online Circulation and Cataloging so she learned the Alliance Library System's new automated Sirsi Dynix system which allows patrons access to books at 160 libraries; entire catalogs plus the State Library. 2009 saw the opening up for patrons to place their own holds and receive items much quicker.   During her 31-year career at the library, she has taken numerous other classes from the System as well as night classes from Southeastern Community College.
Having been an employee when the library was located in small building with very limited space and on to the new library in 2001, Anita has been a part of establishing a number of innovative programs.  Summer reading went from an end of summer individual town celebration to one big party at the library with tie-dye t-shirts, bounce houses, cotton candy, popcorn, a program with lunch provided by the board of trustees. For adults, Cookies and Conversations monthly invites local authors, historians, naturalist, and travel speakers to offer their expertise.  Matinee movies are shown weekly.  For children, on Tuesdays is Storytime all year long.  Movie days, Fancey Nancy Tea parties, Gingerbread House Decorating, Stepping Stones, Crafts, 1000 Books Before Kindergarten, Breakfast with Santa, and Stem backpacks are some of the programs that have been offered.
Hired as the Library Director in January 2011, Anita's career has spanned 31 years where she has worked every job at the library, even driving the bookmobile as needed.  She has written several grants that has enhanced the library by adding new air conditioner units,  new furnace units, an all-building generator, new adult fiction and non-fiction books as well as children's books.  Just think how much money taxpayers have saved!
Changes seen under her direction by use of memorial money include the following:  new awnings, new flooring in the meeting room and workroom, and new furniture in the children's area.  Other innovations are the availability of  three laptops and three hotspots  for loan; free Wi-Fi is on site, a Facebook and YouTube channel opened and a website which has been upgraded three times. 
During Covid-19, the library closed on March 19, 2020 and reopened June 1, 2020.  During this time Anita helped her employees work from home making sure their needs were met both emotionally and physically.  Everyone worked as a team trying to stay in touch with patrons and finding new way to meet their needs using online resources, telephone and outdoor service.  The library Wi-Fi was opened around the county through the Bookmobile and hotspot.  Curbside service started at this time and is still available.
Recognition is due the Smith family as their two daughters were raised in the library and helped volunteering many times.  Bruce is commended for the many hours of maintenance projects completed.  A job at the library truly was a family affair.
Anita is looking forward to spending more time with her children, grandchildren and her church.  She said, "Children are like sponges, and make learning too much fun.  That is what I love about the library environment.  Watching a patron come into the library and helping them find just what they were looking for makes both of us feel good and watching children enjoy a good book-that has been the most rewarding part of my career."
---