The Hancock-Henderson Quill, Inc.
---
La Harpe Lions Welcomes Kevin Beals, New Member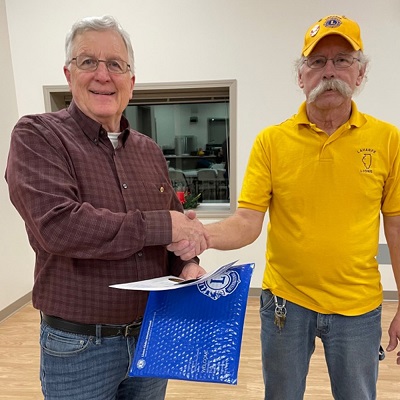 Jerry Burford, the President of the local La Harpe Lions Club, shakes the hand of their new member Kevin Beals (at left). Kevin was welcomed Monday evening, at the regular monthly Lions Club dinner meeting with around 20 Lions Club members present.
The La Harpe Lions meet on the first Monday of each month at 7:00 p.m. in the newly reburbished La Harpe Clubhouse. Guests are welcome to attend meetings with the request that they please notify Jim King or a member 5 days in advance in order to turn in the order for a dinner count which is prepared each month by owners of The Annex for a set fee of $10.50 each.
Along with Secretary Jim King, you may also notify President Burford, or contact Eric Palmer Treasurer, or Tracy Anders Tail Twister for reservations or information about the Lions Club.
Anyone may make a request to be a La Harpe Lions Club member to do join in the community service work. Women also are members. The more members, the better they are to impact La Harpe community.
The International Association of Lions Clubs was established in 1916 in Chicago by Melvin Jones.
Jones, 38, a Chicago business leader, told members of his local business club they should reach beyond business issues and address the betterment of their communities and the world. Jones' group, the Business Circle of Chicago, agreed. Similar groups around the United States were contacted and an organizational meeting was held on June 7, 1917, in Chicago. The Business Circle subsequently joined one of the invited groups, "International Association of Lions Clubs" and at a national convention held in Dallas, Texas later that year, those who were assembled: adopted a Constitution, By-Laws, Code of Ethics and an Emblem; established as a main tenet "unselfish service to others", unanimously elected Woods as its first president securing his leadership for the first two years and selected Jones to serve as the organization's secretary-treasurer. The Lions motto is "We Serve".
Programs include sight conservation, hearing and speech conservation, diabetes awareness, youth outreach, international relations, environmental issues and many other programs of service.
The discussion of partisan politics and sectarian religion is forbidden.
The LIONS acronym also stands for Liberty, Intelligence, and Our Nations' Safety.
---