The Hancock-Henderson Quill, Inc.
---
John Simon Informs Hancock County Board of Details of the County's Ambulance System
Joy Swearingen, Quill correspondent
The Hancock County Board received a detailed summary of the county's ambulance system, provided by John Simon, chief of the Adams County EMS, during their regular meeting Oct. 18.
Simon and his command staff have been giving administrative guidance to the Hancock County Ambulance Service. The agreement was approved in March after the previous ambulance director was placed on paid administrative leave. Six other members of the Adams EMS command staff were at the meeting.
Included in the March agreement was the option for Simon and his staff to conduct an organizational assessment, for a one-time fee of $12,500. The county board had requested this assessment earlier this year.
In the assessment, Simon called attention to five areas -- declining volume of ambulance calls, financial instability, trust, cost of operation, and compliance.
He stated that the management of the previous operation centered on one administrator, and that over the past eight years, there had been six administrators.
"Hancock County has had a single (administrative) position, with all paramedics and EMTs reporting to that person," Simon said. "One person doesn't know everything there is to know about fleet, about supplies, about training, about operations and safety, about billing, about compliance, about privacy. It takes a team."
He stressed that, whether an EMS service is large or small, all these aspects must be managed.
"Hancock County is in no unique situation as it pertains to staff. Ever EMS unit in the country is short," Simon said. "In a nutshell, the biggest problem is staffing. Even if we paid $20 an hour, are there people out there to work?"
The lengthy report concluded with two recommendations. Option 1 was for the county to create a separate, autonomous ambulance board to oversee operations and finances of the service. Other recommendations of option 1 including having two administrative positions, an increase in EMS funding through property taxes or a sales tax, increase wages of staff, designate individuals responsible for compliance in various areas, and construct or remodel a facility in the area of the Basco Blacktop and Rt. 136 that would be central to the two areas of highest ambulance use – Carthage and Hamilton.
Option 2 would be to enter into an agreement with Adams County to expand their coverage into the county. Current employees would have priority to remain at the Hancock Station. Southern parts of the county could be covered by the Mendon and Camp Point stations.
The Health and Miscellaneous Committee and Finance Committees met following the meeting to continue the discussion.
Under the current agreement, Hancock County has been paying Adams County $5,000 per month for 120 hours of service so that Hancock can continue having emergency medical pre-hospital care for the residents and visitors of Hancock County.
That agreement runs through Nov. 30. It can be terminated before that time, or continued after Nov. 30 on a month-to-month basis.
In other business
The board approved creating an office of public defender. In the past, local attorneys have been paid for their public defender services. Under the new plan, circuit judges would appoint and vote on the public defender to take that position. State's Attorney Rachel Mast said this would allow someone to be at the courthouse five days per week. The appointed public defender would be paid 80 percent of the states' attorney salary, and the county would then be reimbursed two-thirds of the cost by the state of Illinois.
The board also approved advertising for the position of conflict public defender.
A contract with ES&S was continued for service and upgrades of voting machines for the County Clerk's office.
The county will renew its contract with Mutual Medical/Symmetra for employee insurance with a stop loss limit of $30,000.
Two agreements were approved for maintaining the Hancock County Public Transportation System, a Downstate Operating Assistance Program grant and the 5311 grant supporting transportation in rural areas.
A tax deed resolution for property in Warsaw was approved.
Representatives from Bellwether reviewed how they were assisting in the budget process. The finance committee reported on four meetings held during the month, and more were scheduled during October, to get information to finalize the budget that will be presented in November.
The county fiscal year runs from December 1 to November 30 each year.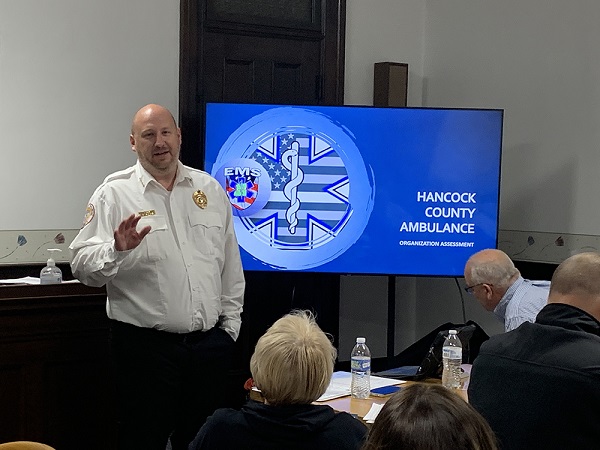 John Simon, chief of the Adams County EMS, giving an assessment of the Hancock County EMS.
---