The Hancock-Henderson Quill, Inc.
---
Delipitated Building Coming Down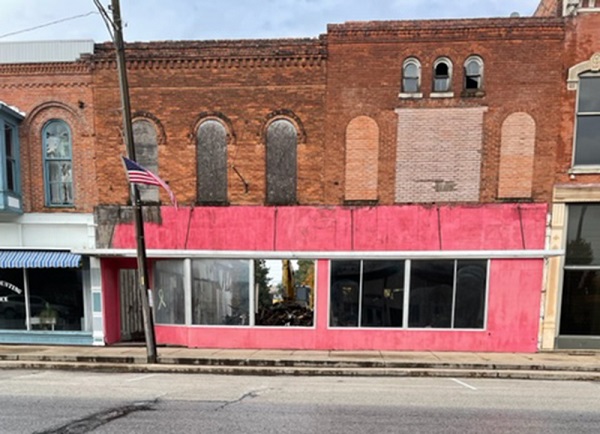 Above is the front facade of the latest building to be torn down on Main Street in La Harpe. It is owned by the city and located at 116 & 118 East Main Street between Huston Accounting & Finance and Fortress Bank. The building once was a busy grocery store called Hamilton's and then Hamilton-Miller Grocery. Jenny Hamilton and Harold "Biz" Miller formed a business agreement after her husband Chris Hamilton died. They bought the adjoining building and tore the wall down between them to double it's size. Dan Gillett, local historian, said he remembers as a small boy going into the store with his mother after they had toren the wall down. He would peer down in the hole as there was a large gap the length of the building where the wall had been. They had covered it with large planks and you had to push your grocery cart over them to get to the other side while they finished up construction. Eventually the grocery closed and it became a restaurant (Bob Russell's). Now, it soon will become an empty lot until the city decides what they will do with it!
---