The Hancock-Henderson Quill, Inc.
---
The Wonder and the Blessing of Autumn Harvest
BY: Bonnie Carnes - Special For The Qill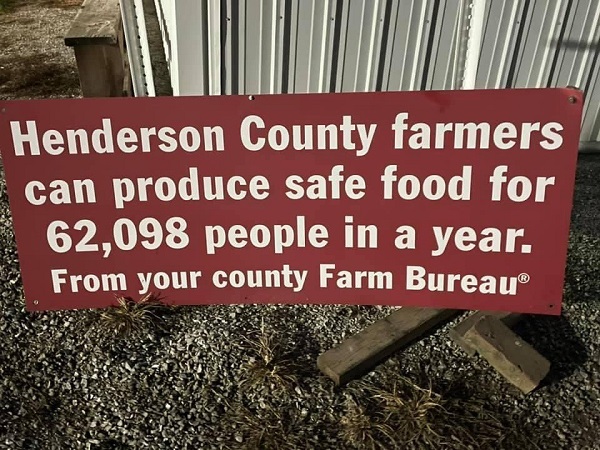 With the first cold snap there is a change in the air and we know it is Autumn harvest time! Growing season is over and harvest is in full motion.
Harvest time brings joy, blessing and bounty from a lot of hard work and a job well done.
For the local farm families, the anticipation of harvest is like a kid waiting for that special Christmas gift. The famers have prepared all year for this.
They start the year by preparing the soil and praying. Planting and praying. Begging for rain (but not too much at once) and praying. Watching the growth from their efforts and praying! And praying some more!
Don't be frustrated when you see trucks, tractors and combines on the road slowing you down, think about what those farmers are working towards… food for your table and clothing on your back.
Harvest season has long days and even longer nights, which impacts not only the farmers in the field, but the truck drivers, elevator operators and agri-businesses.
Please don't forget about their loved ones at home missing their beloved farmer/driver during those long days.
Slow down, watch for them on the road and take a minute to appreciate all that you receive from their hard work. Everything we eat and wear is thanks to the folks who are inside that farm equipment. Our farm families ensure you're able to enjoy those comforts. Let this time be a reminder to always be thankful to God for these blessings.
As a kid from a farm family, I remember my dad filling his coffee thermos and water jug early in the morning and heading out to the field. My Mom made it an unspoken policy that we did not eat dinner until he was back from the field. It might be 10 PM or later when we sat down to eat, but we ate as a family every night. My favorite thing to do during harvest season was to help my mom and sisters make dinner to take out to the field…now that is what I call a tailgate party! It was usually something simple like fried egg sandwiches, PB & J or mac-n-cheese, but I don't think those foods taste better anywhere else than on the back of a Ford tailgate with corn dust flying in the air!
As you plan your traditional autumn activities: visiting the pumpkin patch, carving a pumpkin, drinking ice cold apple cider, enjoying a hayride, roasting marshmallows around a bonfire, admiring the harvest moon, soaking in the beauty of trees adorned with vibrant colors, devouring that first bowl of chili on a cold night, lounging in an oversized cotton sweatshirt, planting mums and decorating with pumpkins…remember how many of those things involve a farm family.
Consider these non-traditional ways to celebrate autumn: Pray for a farm family, drop off water to the truck drivers in line at the elevator or to farmers in the field, slow down and be observant and thankful that there is a tractor in front of you, invite a farm wife out for coffee, invite farm kids for a fun day out, thank a farmer and heck, even take them a meal!
Thank you to our Western Illinois farmers for all you do! It does not go unnoticed. May God bless your harvest and your families.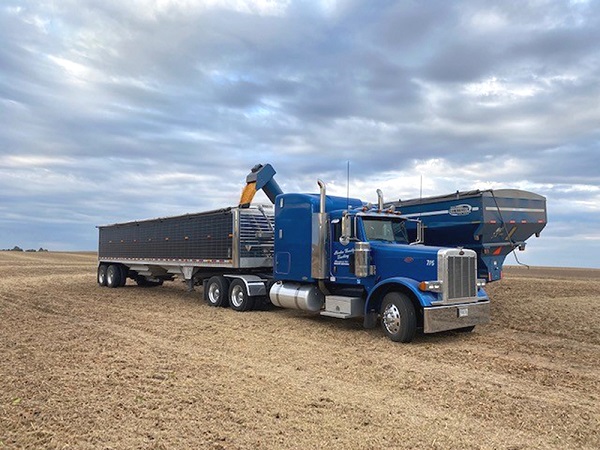 In the field, unloading the auger wagon of harvested corn into the waiting semi - photo courtesy Terry Painter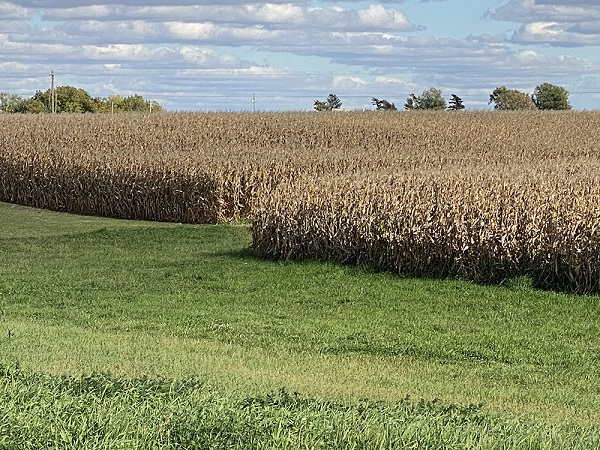 Fields of corn ready for harvesting - photo by Dessa Rodeffer – The Quill
---