The Hancock-Henderson Quill, Inc.
---
Spotlight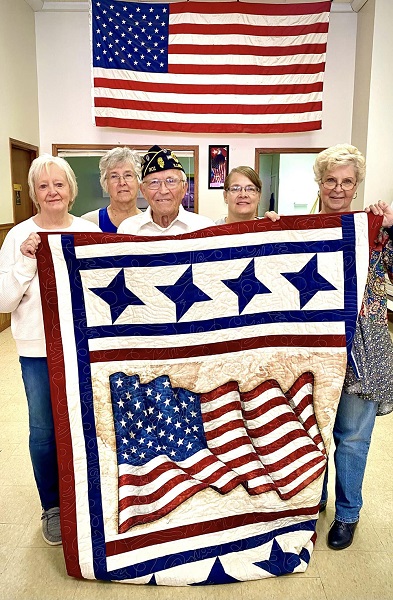 "Talk about honor! "This is honor!" said US Veteran Gerald Boyd of La Harpe after receiving this beautiful QUILT OF VALOR, Sunday.
Gerald spoke at the group's first presentation ceremony for "QUILTS OF VALOR" after he and six other fellow veterans had been presented ?beautiful "Quilts of Valor" and certificates of appreciation at the Stronghurst American Legions Post 765 before family, friends, and veterans.
The quilts were made with love and grateful hearts by members of this newly established "Hancock-Henderson Quilts of Valor" quilting group. There are a dozen members and are part of a national group who seek out local veterans who have served in the US military during a time of war, conflict, or crises, to recognize these "American Heroes" with a quilt to show their gratitude for their service to America and to bring them comfort. Members making the presentation are from left: Jan Gutting-La Harpe, Angela Myers, Peggy Chockley, Stronghurst, and Bev Thacker, Biggsville.
---