The Hancock-Henderson Quill, Inc.
---
"Friends of Henderson County Wildlife" Exhibit Brents' Legacy
by Evan Bell, The Quill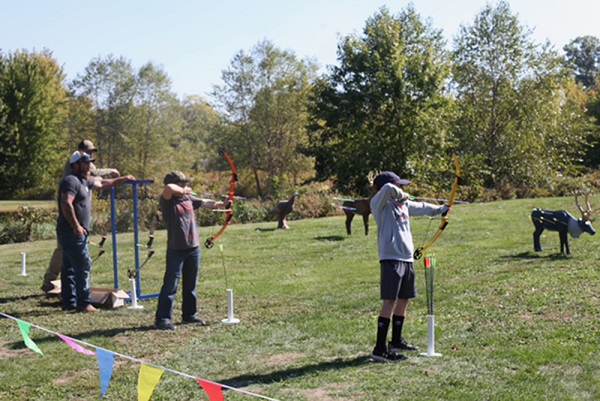 Gulfport– The Friends of Henderson County Wildlife, FOHCWL, had their second annual Heritage Festival and Fish Fry on Saturday. The New Crystal Lake Club opened its doors to approximately sixty-five kids and young adults to learn more about hunting and fishing tips from safety to local resources available to them.
It was a beautiful day for the various activities that were offered, including an archery range, reel casting station and trap shooting as well as an inflatable Dixie BB gun shooting range.
The Illinois DNR had a big block Chevy 454 powered airboat on display and Pain, Wesley Moss's nine-year-old Labrador Retriever, was put to work showing off his bird dog talents.
Raffle prizes and premium raffle prizes were available, with prizes including Moultrie trail cams, Drake Waterfowl gun cases, a Full Tilt single reed duck call, a Johnny Morris carbonlite reel, an engraved FOHCWL Yeti tumbler and more.
Staff from Dead Oak Bottoms, an organization that helps get veterans back out in nature, played a large role in hosting several of the activities. Tim Vice handled the catfish for the fish and chips luncheon. Rick Ferguson had a taxidermy showing and Full Tilt Fowlers offered a nice display of their custom duck and goose calls.
It was a great day for passing on a little education, conservation, outdoorsmen heritage and reminding us what all Henderson County has to offer.
BRENT LEGACY
Siblings Natalie Blindt and Rodney and Lonnie Brent have been able to watch their parents' legacy play out and know they would be pretty proud of how it has brought kids out of the house to enjoy the natural resources their parents had taught them to enjoy.
Hearing the sounds of duck calls and gun shots ring out over 1,500 acres of protected wetland and timber owned by what now is known as New Crystal Lake Club, is to see the legacy of conservation and outdoorsmanship live on in another successful event. With more than 80 youth and their family members taking part in the 2nd Outdoorsmen Heritage Festival and Fish Fry, is beyond satisfying.
As Participants split off into groups and rotated through stations where they learned from professionals about shotgun clay bird trapshooting, bow and arrow shooting, boater safety, duck calling and hunting dogs would be the delight of the Brents' parents. 
The nonprofit group was started by Natalie (Brent) Blindt and her two brothers (twins) Rodney Brent and Lonnie Brent in 2020 to provide youth with conservation and outdoorsman education and experiences.
"We feel it's good to give kids an opportunity who may not have had otherwise a chance to get outside and enjoy Mother Nature, some of our natural resources and something they can do away from school and away from all the electronic devices," Rodney Brent said. 
Brent family shares legacy of education, love of outdoors 
The nonprofit models the values instilled in the siblings by their late parents, Don and Beverly Brent of Stronghurst. 
Don Brent (a Union High School graduate), and Beverly (Morris) Brent, a Stronghurst High School graduate, were longtime educators. Beverly was an elementary school teacher for 30 years in Stronghurst, Illinois, and Don was a teacher, coach and principal for Dallas City High School. Beverly died in 2018, and Don in 2019. 
While all three of their children would go on to become pharmacists, their parents passed on to them their passion for educating youth, as well as experiencing the great outdoors.
"Our parents loved the river, and they were avid fishermen," Rodney said. "They fished a lot together, and my dad was a major hunter. The legacy they left us was several of those gifts: the gift of time fishing, hunting and spending family time together."
"The Brent family also are longtime community supporters which has been instilled in their children who have chosen to live back in this area and support it however they can.
Offering demonstrations on waterfowl retrieving were Wes Moss, owner of Mossy Bottoms Kennels of Dallas City, and Pain, Moss's 9-year-old Labrador retriever. 
A licensed hunter safety instructor was also on hand. 
"There's a big need for Illinois hunter safety course education," Rodney Brent said. "In most states, including Illinois, to get your hunting license."
Group focuses on helping youth, boosting conservation
There are several membership levels available, with youth being able to join for just $15.
Membership dues and other money raised by the group go toward providing opportunities for youth, as well as conservation efforts. 
"Essentially, in our rural area, you grew up here, the river valley, all of our natural resources are one of our great resources that we celebrate and enjoy," Rodney Brent said.
Friends of Henderson County Wildlife have put up dozens of wood duck boxes throughout the county and are raising money to enhance state parks, including Gladstone Lake and Big River Forest, with upgrades such as a wildlife viewing area and a boat dock system. 
Rodney and Lonnie Brent drifted from station to station, taking pictures and greeting attendees along the way. It is a real thrill to see fathers/mothrs–sons/daughters come together to enjoy and learn together.
"It is also a thrill that Crystal Lake allowed us to host our event here," Rodney Brent said. "Crystal Lake is one of the most historical outdoorsman locations in the Midwestern United States, but it's a private club."
---