The Hancock-Henderson Quill, Inc.
---
Jim King Receives Prestigious Melvin Jones Fellowship Award
The Melvin Jones Fellowship Award (MJF) is the backbone of the Lions Club foundation. Presented to those who donate US$1,000 to LCIF or to people for whom a donation was made by others. It's a tremendous contribution to humanity and to the legacy of founder, Melvin Jones.
According to their website: "Lions serve. It's that simple, and it has been since we first began in 1917. Our clubs are places where individuals join together to give their valuable time and effort to improving their communities, and the world.
"The Lions Club International and its members continue to move further into their second century of service, with their commitment to taking action and making a positive impact on the world is stronger than ever. Reach out to one of our 47,000 clubs and see how you too can get involved in one of the greatest forces for good the world has ever known.
Did you know? In 1917: The Beginning of Lions Clubs International
In response to social problems created by World War I and rapid industrialization, a Chicago businessman named Melvin Jones invited business clubs from around the USA to a meeting where the Association of Lions Clubs was formed.
2017: Lions Turn 100
The 100th year of serving local communities and the globe is celebrated at the Lions Clubs International Centennial Convention in Chicago, Illinois, USA—the same city where the association began.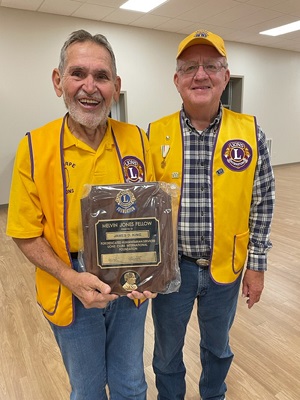 Lion James King (left) of La Harpe, was presented with a Melvin Jones Fellowship by Lion Boyd Mueller to recognize his many years of service.
MJF supports the work of the Lions Club International Foundation.
---