The Hancock-Henderson Quill, Inc.
---
Hancock County Board reorganizes after election, Menn named chairman
Joy Swearingen, Quill Correspondent
Mark Menn was elected as the new chairman of the Hancock County board at their reorganizational meeting Dec. 5. Wayne Bollin was elected as vice chairman.Both candidates were the only ones nominated for their positions, and were approved by unanimous ballot.
All newly elected or re-elected county board members took the oath of office. Every ten years, following the census, all county board members must run for re-election based on the newly-verified county board districts. After the 2020 census, a change was made moving Pilot Grove Township from county board District 1 to District 2.
"No board district can have more than a 10 percent difference in population from all the others," explained County Clerk, Holly Wilde-Tillman. The change must be made by moving an entire township, and townships within each district must be contiguous.
By lottery, one board member from each district was selected to serve a two-year term. The other two serve four-year terms. Terms were determined as follows:
District 1 – Four-year terms, Michelle Merritt and Wayne Bollin; two-year term, Tom Bergmeier.
District 2 – Four-year terms, Harry Douglas and Dennis Castlebury; two-year term, Alex Blythe.
District 3 – Four-year terms, Tom Rogers and Ryan Weeks; two-year term, Steve Lucie.
District 4 – Four-year terms, Andrew Asbury and Mark Hanson; two-year term, Mark Menn.
District 5 – Four-year terms, Patsy Davis and Steve Finney; two-year term, Mark Harrison.
New members on the board are Michelle Merritt and Mark Harrison of Carthage, Steve Lucie of Basco, Alex Blythe of LaHarpe, and Ryan Weeks of Sutter. Members retiring from the board are Janet Fleming, Pat Cramer, Delbert Kreps, Gary Stansbury and Katherine Phillips.
Board committees were appointed by Menn.
Road, Bridges and Highway -- Davis, chairman; Bollin, vice chairman; Harrison, Rogers, Blythe, Castlebury and Lucie. Meeting time is determined each month.
Finance, Fees and Salaries – Bollin, chairman; Douglas, vice chairman; Asbury, Castlebury, Hanson, Bergmeier. They meet on the second Thursday of the month.
Health and Miscellaneous – Asbury, chairman; Davis, vice chairman; Douglas, Harrison, Merritt, Finney and Weeks. They meet on the first Monday of the month, starting in January.
Building and Grounds – Hanson, chairman; Bergmeier, vice chairman; Finney, Merritt, Rogers, Weeks and Lucie. They meet on the second Tuesday.
Menn stressed to board members the importance of attending committee meetings since much of the county work is done through committees.
"Do your best to make those meetings," Menn said. Especially to new members on the board he added, "Don't hesitate to contact the chairman for information. The first few months can be overwhelming. There is no such thing as a dumb question. If there is something you need information about, discuss it with the chairman or any of the board members. An informed board is the most important board you can have."
Lots were drawn to establish the order for roll call voting.
The board adopted the 2009 version of the county board rules of order. Members discussed that the rules of order should be reviewed in the coming year.
Prior to reorganizating the new board, the previous board met briefly, with Delbert Kreps presiding.
A tax anticipation warrant ordinance was approved for the ambulance fund. The board chairman and the Finance Committee chairman are authorized to sign off on the line of credit.
As retiring board member and board chairman, Kreps was thanked for his service.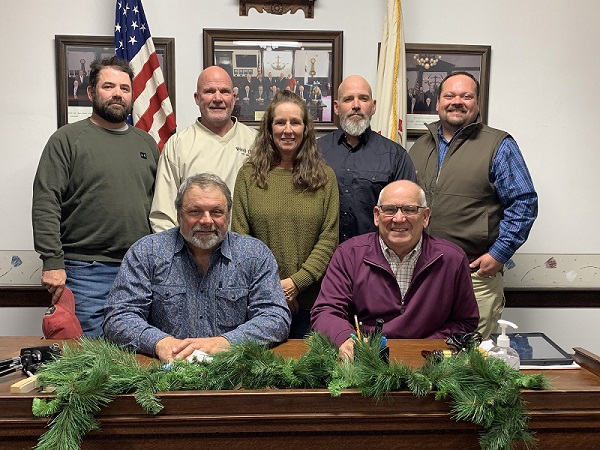 Wayne Bollin, vice chairman, and Mark Menn, chairman, were elected leadership for the Hancock County board. Above front from left are Bollin and Menn along with five new board members…from left standing in the back are, Alex Blythe, Mark Harrison, Michelle Merritt, Steve Lucie and Ryan Meeks.
---