The Hancock-Henderson Quill, Inc.
---
Business Spotlight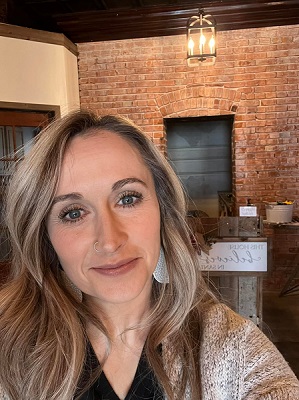 Nearly a year ago, Beautiful & Beloved, 112 East Main, La Harpe, was opened in January 2021, by owner Jaimie Huston.
The building has been a community staple for years, located along Main Street, which many will remember as Dr. Muellers office, but at one time was The La Harpe State Bank as you can see by the picture below. Hustons have worked to restore the front to its original character.
Beautiful & Beloved offers an assortment of clothes, jewelry, bags, doggie accessories, tumblers, signs, pillows and much more. Plus, a real favorite, Lotus drinks which Jami more recently introduced under the logo of B&B Beverage Co..
With her creative flare, Jami also personalize shirts for school or club groups.
Along with the items for sale, they offer spray tans for a warm glow.
Jaimie's husband is A. J. Huston and they have 4 children, Jaylnn, in Missouri, Trey Josiah, and Jobe of La Harpe.
Jaimie's mom has worked diligently beside her from the start and helps in the store.
The hours at present are:
Tuesday 7 a.m.–11 a.m.;
Wednesday 10 a.m.–4 p.m.;
Thursday 12 p.m.–6 p.m. (late for spray tans);
Friday 7 a.m.–4 p.m.;
Saturday 10 a.m.–3 p.m.
Closed Sunday and Monday.
"My family and friends have stood behind me and this dream of bringing a small business to our town of La Harpe and neighboring communities.
"We always have something new, just for you and everyday is a great day for a yummy Lotus drink," Jamie states.
Stop in and say Hi to Jami and check out her store, enjoy a beverage. As Jami likes to say, "Sip and shop!"
You can check out the website at Beautiful & Beloved by Jaimie or find her on Facebook.
---