The Hancock-Henderson Quill, Inc.
---
SWEARING IN
The swearing in of several Henderson County officers was completed in the past weeks by Circuit Court Judge Raymond Cavanaugh of Oquawka. Pictured are Judge Cavanaugh, Tina Droste (County Treasurer), Amanda Van Arsdale (County Clerk), and new States Attorney Rachel Mast all of Stronghurst. Also, elected Sheriff, Matt Link of Biggsville, was sworn in.
Oquawka– The Henderson County upstairs courtroom was full Thursday morning by 8:30 a.m. when the swearing in of new officers was held.
Newly sworn in Sheriff Matt Link, back from two weeks vacation and a week of new Sheriff's training in Springfield, was eager to get to work, he said, in his new position as Henderson County Sheriff.
After 20 years experience as Deputy under Sheriff Mark Lumbeck, Sheriff Steve Haynes, and Sheriff Donald Seitz, in Henderson County law enforcement, he had many ideas of how improvements could be made.
"I was just eager to get here so I can get going on projects. Now, it's time to work!" he said.
Out of the many items Sheriff Link wants to work on, his first priority is TRI-AD, an elderly adult service he will partnership with to feed information to the elderly and to develop a call list to help avoid scams and to give them a place for protection.
Sheriff Link said he's also trying to work again with the Dept. of Justice as they reopen grant funding that was closed due to COVID-19. to apply for a grant he had almost obtained for a school resource officer at West Central School District.
Henderson County's newly appointed States Attorney Rachel Mast was busy putting her office in order on Thursday afternoon, having already taken over the office of Colby Hathaway who had resigned effective Nov. 18th to take the position as Henry County Circuit Court Judge after Judge Dana McReynolds who had retired with 32 years on the Bench in Henry County Circuit Court.
Judge Elect Colby Hathaway (formerly of Galva) was sworn in at Kewanee City Hall Monday, December 5th.
Rachel Mast has kept the current staff working for her in the Henderson County States Attorney's office who are Crystal Parsons in her 5th year and Angie Peterson who is the longest personnel serving that position.
Peterson said she began working in the States Attorney's office in 1985 under Henderson County States Attorney Steven Reed. She said that Mast is the county's first female State's Attorney and is the 8th State's Attorney she has worked for in Oquawka. The 8 States Attorneys she has served include: Steve Reed, John Prior, LaMarr Evans, David Vancil, Ray Cavanaugh, Scott McClintock, Colby Hathaway, and currently, Rachel Mast.
New Henderson County States Attorney Rachel Mast and husband Daniel Mast currently are living in Carthage where she served as Hancock County States Attorney before resigning in November to take the position vacated by Colby Hathaway. She and her husband are searching for a home in Stronghurst for their family of three children. She wants to live here and be a part of the county and communities she serves, she said. Above is Rachel with her family.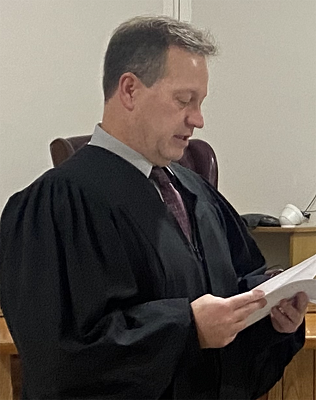 Circuit Court Judge Raymond Cavanaugh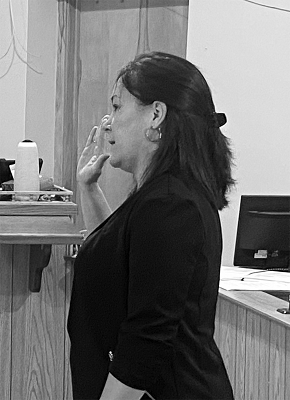 Henderson County Treasurer
Tina Droste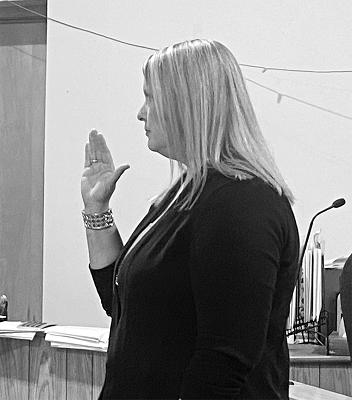 Henderson County Clerk
Amand VanArsdale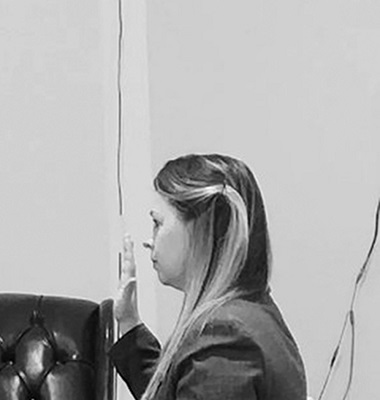 Henderson Co. States Attorney
Rachel Mast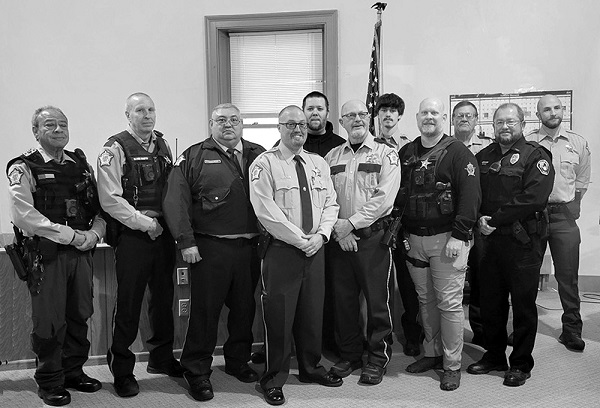 New Henderson County Sheriff Mattew J. Link (center) surrounded by members of his Sheriff's department and other police support at his recent swearing-in Thursday morning. From left are: Clifford Adam, Monmouth–Henderson County deputy since September and Oquawka Police Chief with 42 years experience; Ron Russell of Burlington, IA,–Henderson County Deputy since 2016 with six years experience; Pete Hinojosa of Lomax–Captain of the county auxiliary police (volunteer); Sheriff Matt Link (Biggsville); Jason Gonzelos, Biggsville–Dispatcher; Dave Staley of Seaton–Deputy with 23 years experience; Dallas Cramer, Blandinsville–Deputy since July; Scott Albin, from Gladstone lives in Burlington, IA -Deputy and K-9 dog handler with 20 years experience; Daryl Askew, Oquawka–courthroom security deputy; Gary Smith, Dallas City Police Dept. Chief retired from Department of Correction with 20 years experience, and Brandan Seitz, newest Deputy from Oquawka (nephew of past Sheriff Donald Seitz).
---