The Hancock-Henderson Quill, Inc.
---
Meet Your Neighbor
by: Grace Lessen, The Quill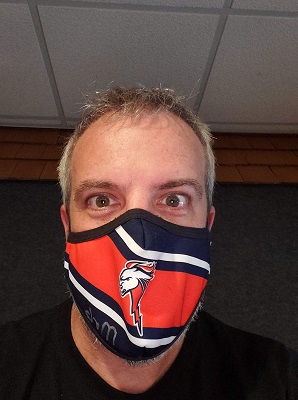 Chris Greenhalge
Meet Chris Greenhalge (aka Mr G), currently an IT Director at Illini West. Chris was born in Bad Kissingen Germany and spent his life from 5 years old on in Colorado until he married in 2004. He and his wife moved to Dallas City in August of 2005, where she had grown up and much of her family lived.
Chris attended Rampart High School in Colorado Springs, and received his Bachelors Degree in Social Sciences from Colorado State University in Fort Collins, CO in 2002. He obtained his Masters Degree in Non-profit Business Administration in May of 2010 after enrolling in various Masters programs including Special Education, Counseling, and Psychology.
He has worked as a Finish Carpenter, Employment Specialist, Professional Counselor, a Director of Psychosocial Rehabilitation program, and a program Director for two different Adolescent Rehabilitation programs in Iowa and Illinois. Throughout these times he also has served as a youth pastor and itinerant preacher at various churches.
He says, "I am married to my beautiful wife, Amanda, and have three kiddos, Aaron, Caris and Elise, 12, 9 and 6 respectively. We also have a golden retriever, Kya".
Chris Greenhalge was hired as the IT Director in 2015 and has been working the network, expanding the technical capacity, and teaching whenever possible. Chris is also a coach for FBLA and Esports. His favorite part of "teaching" is, "the amazing honor it is to be able to help find students passion and help direct them towards their own meaning of full life"!
When Chris was asked how COVID has effected teaching, he responsed, "COVID changed everything! We moved from a model of needing good hardware and internet at the school, to needing good hardware and networking "everywhere" a student could be. While this time has been stressful it has made me realize just how powerful technology can be in our everyday lives and how much we need face to face interactions".
During his free time Chris says, "I enjoy helping around the house, continuing to improve our house, playing with the kiddos, and occasionally playing video games".
His advice to students is "to find something that you can be passionate about and that you enjoy doing. Money is a great motivator, but if you aren't happy with your career or life, money doesn't always help".
---