The Hancock-Henderson Quill, Inc.
---
Biggers' home a total loss, but they've got each other
by Dessa Rodeffer, Quill Publisher/Owner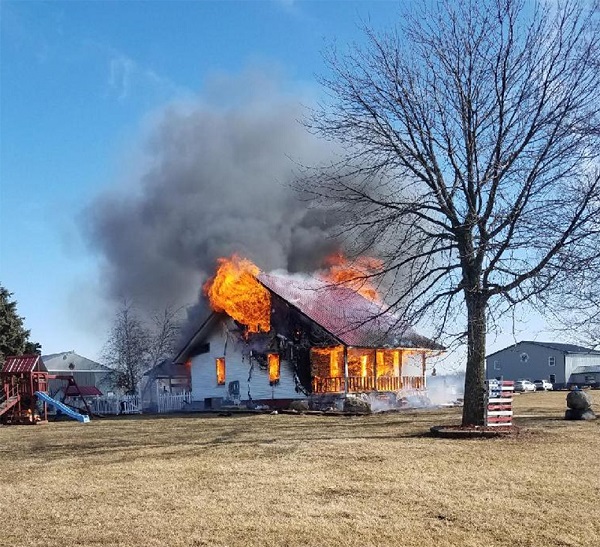 Tears flow easily after a devastating loss of a home you have lived in over 30 years with personal items of a 43-year marriage go up in smoke. It was a home filled with memories of both laughter and sometimes pain" a safe place to bring your joys and troubles" a place you and your children, grandchildren and extended family have come to love.
But for Paula and Randy Bigger, though the pain is deep, they are grateful for a family and grandchildren that are safe, and for an overflowing number of friends.
Grandchildren are starting to get ready for 4-H projects, Randy and their boys are working with the calving season, and soon it will be planting time. Life moves on.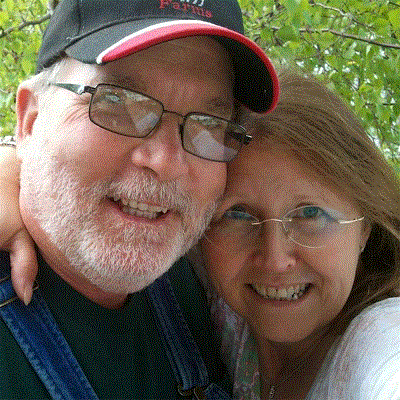 "I'm no cry-baby," Paula said as she apologizes for the tears that so easily flow.
She explained in a post on her Moose Creek Farms Facebook page this way:
"On Saturday, we lost our home to fire. It is most heartbreaking and gut wrenching thing I have every been through.
"We felt so helpless and hopeless as we stood and watched almost 43 years of our lives go up in flames. Items we can never get back or replace.
"Both of our father's guns, grandfathers pocket watches and pipes, grandmother's doilies she made, ones purse, and another's jewelry. Family photos of loved ones that are gone, children and grandchildren. The list goes on and on.
"To everyone that was here Saturday helping, to all who have given food, clothes, money, any act of kindness, we thank you from the bottom of our hearts.
"To those asking what they can do, just come see us and keep us in your prayers. Your visits keep our minds occupied and we stop reliving the fire for a while.
"We are staying (right next door) with Travis to be close during calving season. So please stop by any time. We would be glad to see you."
Randy's folks Reldon and Norma Lee Bigger had purchased the home in 1960 and Randy was raised there since age 5. In August 1990, Randy and Paula moved into the farm home when their folks moved into Media, almost within shouting distance.
Paula said, the Fire Marshal called the home a balloon house, one that no one can stop the fire, it goes up so fast into the attic and engulfs the house.
"My dad's guns, his dad's guns, ......so much lost that cannot be replaced."
But Paula was thankful the grandkids had not spent the night.
Paula was on her way to work at Dr. Schar's and Randy and Cody were on their way to pick up the youngest grandson Maverick when Travis and a hunter saw smoke coming from the house. They were staying in the Bigger Bucks Outfitters lodge of Travis', right next door.
Travis called his dad and at the same time the hunter called Paula but by the time they arrived the fire was out of control in a rage.
The Fire Marshal told Paula that he has seen so many fires from items being plugged in with batteries that he unplugs everything in his house when he leaves for vacation except the refrigerator and the oven, even though it takes the whole day when he returns to plug everything back in.
In this case, however, the Biggers were not on vacation. It happened so fast!
"It really helps when people stop by and talk. It helps interrupt those moments when I'm having a pitty party or "poor me" moment," Paula said. "I'll be remembering things we've lost, family keepsakes, family heirlooms."
Paula said, "I knew it was gone when I saw it. I went to Randy's armsâ€"he's my rock... he can fix it. I knew if I were there, I'd be all right."
It has been a blessing that son Travis built a lodge next door Bigger Bucks Outfitters and opened it last August 2020. It has been their home for now.
Paula retired from Doran Insurance and had wrote her own policy with Westfield Insurance Company and said they have been great.
They helped me walk through the house in my mind and they write things down and are able to come up with the replacement cost at the same time.
The Biggers are in the middle of calving but are trying to get back on their feet, too. They've had to make some purchases such as a bed and soon Kevin Shauman will be starting on the cleanup of the house to get the reminder of the tragic fire behind them.
Our 8 grandkids had Keep Forever boxes at her home that were lost but they will begin again, she said.
The Biggers have raised three sons Ryan, Travis, and Cody in the home, all live nearby.
For the many who helped during the fire or brought something, said a kind word or have stopped to visit, it means more than words can see.
One of Paula's favorite hobbies is reading - thus the Kindle. She will continue to read, and plans on restocking her Pioneer Women cooking collection and is helping Travis cook for hunters and others who stay at the lodge.
"We'll be alright. We are so appreciative of the many friends who've stopped by just to show they care."
---