The Hancock-Henderson Quill, Inc.
---
"Heavenly" Beds for Kids in the Making
by Dessa Rodeffer,Quill Publisher-Owner
A new venture is blossoming in Christian mission work in La Harpe which will be offering a free bed to kids who do not have one.
The nation-wide organization called "SLEEP IN HEAVENLY PEACE" (SHP) has chapters across the United States, the nearest one in Illinois, in Peoria and Liberty.
The idea started before COVID-19 but it wasn't until Saturday that construction got underway, said Mike Moore of rural Blandinsville who has been involved in several missions at their church including One Family, One Purpose.
Moore and Darin Higgins, co-presidents of this project, are members of the La Harpe Christian Church. When it was found that some area kids did not have beds, they thought this would be another way they could serve and fill a need, especially after a teacher in their church said a child had just told her he was sleeping on the floor.
That's where Sleep in Heavenly Peace comes in, their website says.
"We're a group of volunteers dedicated to building, assembling and delivering top-notch bunk beds to children and families in need. Our organization has grown steadily over time, and we're working on opening more chapters in different states to serve more people."
"We fully believe that a bed is a basic need for the proper physical, emotional, and mental support that a child needs."
"All children deserve a safe, comfortable place to lay their heads…too many boys and girls go without a bed - or even a pillow - to sleep on. These children end up sleeping on couches, blankets, and even floors. This can affect their happiness and health."
Moore said they were eager to help with this national problem but, COVID-19 slowed things and they couldn't be chartered until they had built their first ten beds."
Things have finally gotten better with the pandemic so the project of an assembly line of sorts was set up in Darin Higgins garage southeast of Good Hope.
The project went on even with Friday nights heavy storms and rain that continued throughout Saturday. Working inside the garage and with some pop-up tents in the yard, the group hoped to have ten beds built by the end of the day. The ladies were sanding and wood was dropped in a stain they had homemade, and men were building and assembling. On each headboard, Mike Moore was branding the initial, SHP.
The chapter will be able to serve a 50-mile radius which includes towns in Hancock, Henderson, Warren, McDonough and beyond, and counties in Iowa.
"We at La Harpe Christian Church know there is an immediate need in our area."
"We are seeking individuals to help in a variety of ways," Diana Higgins said, wife of Darin.
1. Praying for the team to complete builds and help the community.
2. Volunteering time during builds to make the beds.
3. Donations of supplies of funds.
Moore said they were able to get national discounts from Milwaukee Tools and Lowes, and West Side Lumber donated lumber for 3 beds. They also obtained mattresses had a big discount. At present they have 7 volunteers. If you can help or have questions contact Mike at 217.357.4601 or Darin at 309.339.2266.
Volunteers: Mike Moore, Darin Higgins Co-Presidents, Diana Higgins, Denver and Danelle Smith, Seth and April Berlett, Mark Peterson, Jake Thomas plus their children Alexa Berlet, Daylee and Devyn Smith also helped.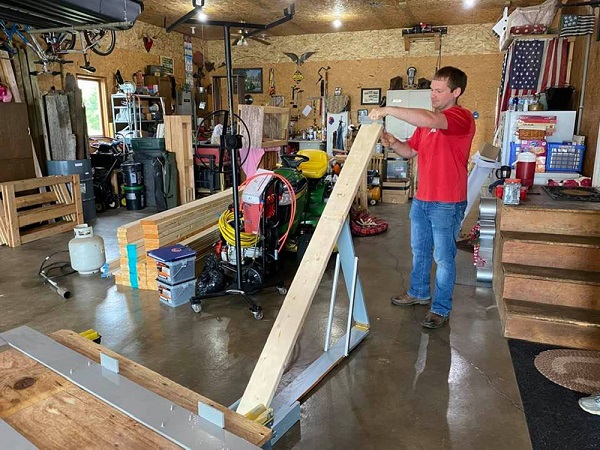 Jake Thomas, of La Harpe installs end-caps for the Sleep In Heavenly Peace project started recently by members of the La Harpe Christian Church. It will provide free beds for kids who do not have one.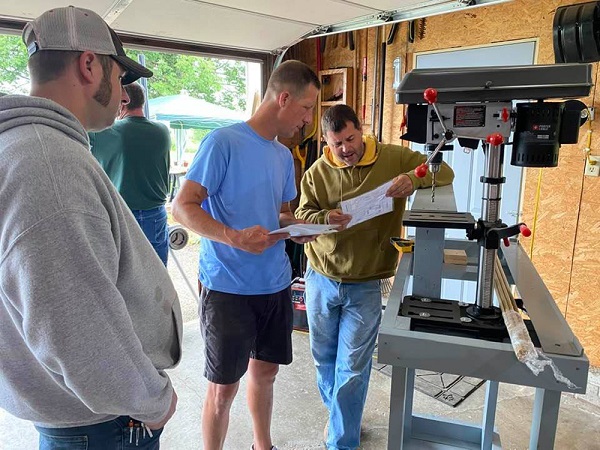 Darin Higgins (center) Co-President of SLEEP IN HEAVENLY PEACE, LA HARPE CHAPTER goes over details of their part of making beds for kids with Seth Berlett and Denver Smith.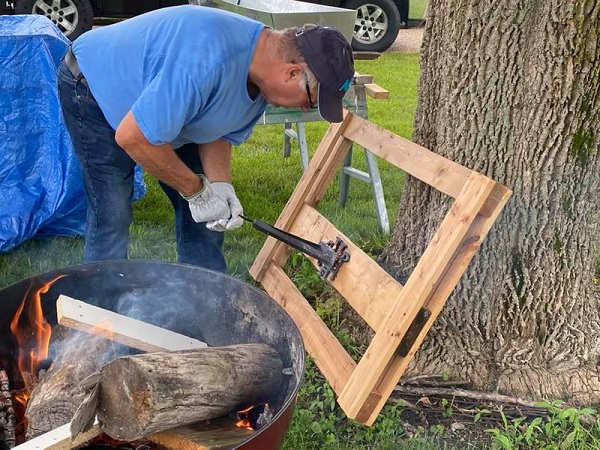 Mike Moore, Co-President of the La Harpe Chapter of SLEEP IN HEAVENLY PEACE, brands a headboard with SHP as they made beds to help kids in need.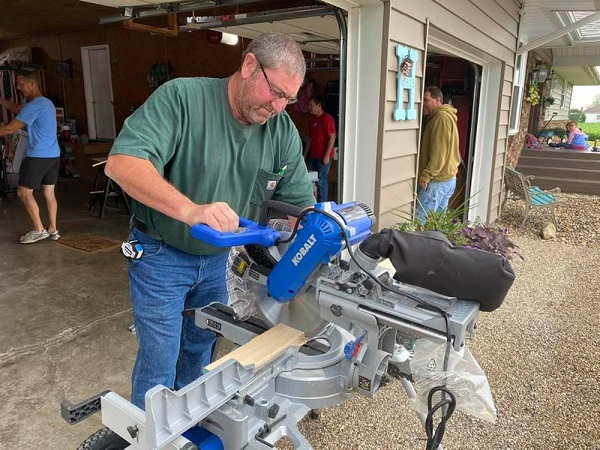 Mark Peterson, Blandinsville, volunteer, measures and saws boards for the project.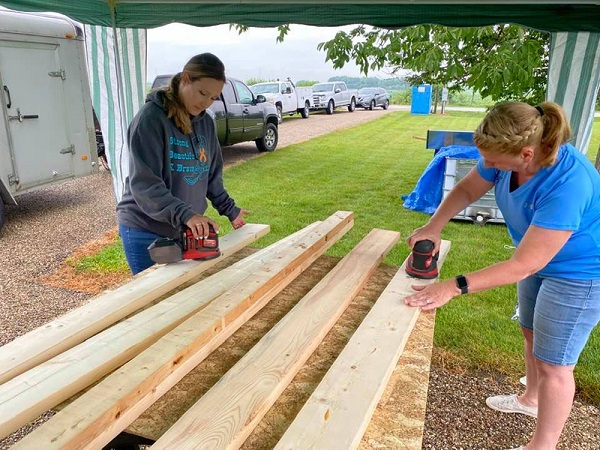 From left, Danelle Smith and Diana Higgins are sanding the boards smooth.
---