The Hancock-Henderson Quill, Inc.
---
Meet Your Neighbor
By: Grace Lessen - The Quill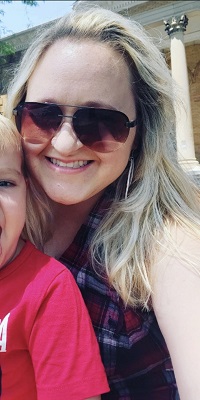 HEATHER ROSS
Meet your neighbor Heather Ross who lives in Hamilton. Sbe was born in Quincy, raised in Hamilton, and graduated from Hamilton High School in 2001. Heather went on to receive her Bachelors of Science Social Work from MacMurray College, then received a Master's Degree in Counseling from Quincy University.
Heather's husband is Matt Ross, born and raised in Warsaw.  He is the general manager at Dadant & Sons in Hamilton. Heather and Matt were married in 2011 in Carthage. They have 3 children: Collin, 11, Gracie, 6, and Jacob 3.
Heather is a licensed professional counselor, employed at The Evergreen Center, Senior Behavioral Health at Memorial Hospital since 2009.
Their children attend Hamilton elementary school. Collin  enjoys hunting, fishing, and riding his dirt bike. Gracie loves to dance at Mind & Sole Dance Company. Jacob loves tractors, fire trucks, swimming.
"All of our kids are enjoying time at our new pool," Heather says. "I look forward to spending more time with my children and watching them enjoy the activities they love. We also look forward to taking our third trip to Disney World this winter!"
---