The Hancock-Henderson Quill, Inc.
---
Zack Stamp's Book-Signing–Well-Received
by Dessa Rodeffer, Quill owner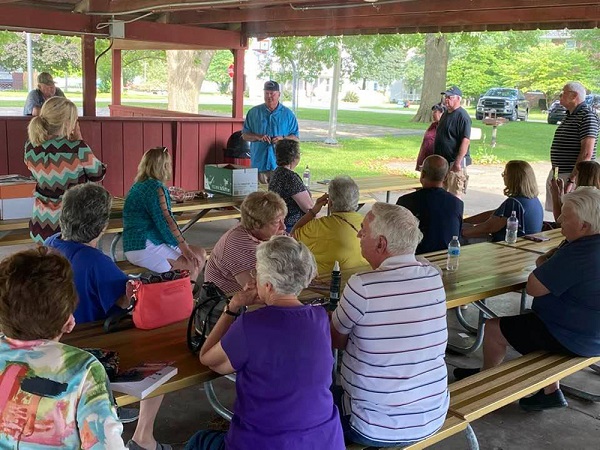 He really didn't expect many to sell," Zack Stamp said of his first published book after finishing a "well-received" and successful book-signing in his hometown last week at the Stronghurst Village Park.
Stamp is now in his third printing of the book "THINGS AS I REMEMBER THEM" which describes his life, his learning moments of his youth, and problems and feelings through the eyes of a young boy, to his life as an adult."
"I really wrote the book for my two sons, to let them know I had experienced "life," Zack explained.
Stamp has been a successful lawyer and top lobbyist in Illinois who worked and lived in Springfield after his early years in Stronghurst. He and his successful attorney wife Diane (chief counsel for several Illinois governors) are retired and live in Naples, Florida.
Even with all his successes, Zack had reflected on how children usually perceive their parents at different stages.
"It occurred to me, that the views of children toward their parents, particularly a father, evolve over time. "From friend and hero....to a stupid old man, then hopefully something more neutral…"
He reflects on everything from chasing fire calls on his bike when the siren blew, to making bacon, working at the Highway Dept. to what goes on at Fort's pond, or inside a football huddle, and a few things we won't bring up in "The Quill." The Quill has a large box of Zack's books to sell at $15 each and they are going quickly. So, be sure to come into the Stronghurst office between 8-4 p.m. Monday through Thursday; or on Friday 8 to noon, while supplies last.
It's an easy read and you'll be amazed at how well you can relate to some of the happening that go on in a "safe" small town such as Stronghurst. It will also bring back memories of your youth and perhaps even spur you on to write a book of memories for your kids.
One of the chapters in Stamp's book discusses Rebel football with Coach Will Bavery and tells why he believes he is one of the best coachers in the state. Mr. and Mrs. Bavery were on hand to buy a few signed copies.
---