The Hancock-Henderson Quill, Inc.
---
Oh My Goodness LH Park District ! ! !
Patriotism Is Alive and Well in La Harpe
by Dessa Rodeffer - Quill Publisher/Owner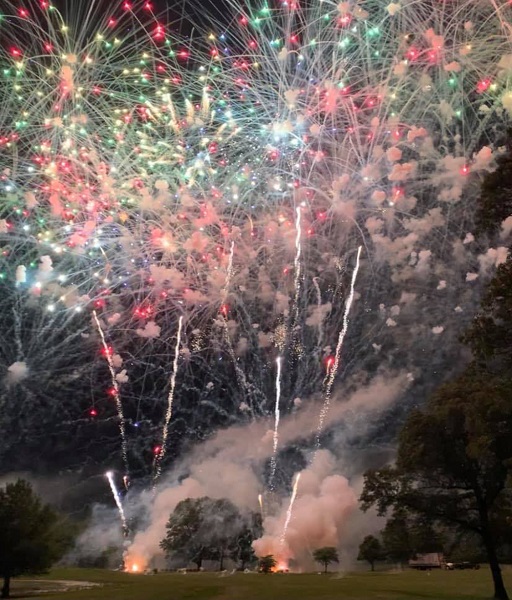 Everywhere you go, it seems people are raving about La Harpe's outstanding fireworks and 4th of July celebration.
In talking to Jason Siegworth who coordinates the event, working with President Barry Wright and members of the La Harpe Park District, he was also overwhelmed with the turnout, and all the community support they had received.
"This was the biggest one ever attended," he said. "Oh my gosh. Everything was sold out. The La Harpe Fire Department breakfast had a bigger crowd than expected at the Clubhouse. Fortress Bank's block races were packed and they had more than expected at La Harpe Caring Creations for their games, and Love La Harpe's inflatibles, and at the Huston Family pedal tractor pull.
They sold out of pork chops sponsored by the La Harpe Lions Club and Food For Thought sold out of pie and ice cream.
"We had people from Burlington and Fort Madison, Iowa and all around who came as they heard La Harpe had spectacular fireworks."
The La Harpe Fire District did not disappoint them. Dianne Adkisson came from Nauvoo to see the fireworks which she listed as a favorite celebration. Kara Russell Bigger from Gladstone posted on The Quill's facebook page, "These were by far the best fireworks I have seen.
They did a wonderful job. This will now be an annual event for our family from now on."
Siegworth said that without the volunteers and groups stepping up like they did, and running the various events, they would not have been so successful. "We are so appreciative of the La Harpe Fire Department, Fortress Bank, La Harpe Caring Creations, Love La Harpe, the Huston family, the Lions Club, Food For Thought, and all those who volunteered," he said.
If you missed this year's fireworks, don't fret. La Harpe's 4th of July Celebration is an annual event. It will be back every July 4th, God willing.
2022 is sure to be bigger and better as they plan for an even larger crowd for America's biggest celebration of the year.
La Harpe, thank you for bravely bringing good old patriotism back to life so that all may come and celebrate again, together. It was about time.
---