The Hancock-Henderson Quill, Inc.
---
Meet Your Neighbor
BY: Grace Lessen - The Quill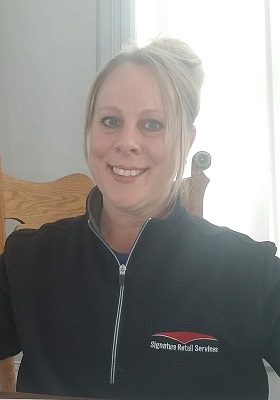 ."Kat" Hasten–Reed
La Harpe Mayor
Katherine (Kat) Hasten-Reed, was born in La Harpe, then lived in the Chicago area until Kat returned to LaHarpe in 2010.
In 2017, Katherine married her husband Dustin Reed.
"Kat's" parents are Tom Hasten of La Harpe and Carolyn (Kevin) Urban of Suburban Chicago, both are retired.
She has one brother Carl Hasten of Chicago who works with law enforcement and she also has two step-brothers, 1 step-sister, and several sibling-in-laws.
Kat's grandparents were Carl Jr. and Mabel Hasten of La Harpe and William II and Ruth Burfeind of the Chicago area. Her great grandparents were Fred and Olive Hillers of Fountain Green.
Kat graduated from Oak Forest High School and then from WIU with a Bachelors degree. She was involved in many sports throughout high school and also continued with cheerleading through college.
Kat says, "I work for a Fantastic company, Signature Retail Services, and have been with them since 2006".
Kat has been the Mayor of La Harpe since 2017 which she also enjoys. Some of Kat's hobbies include woodworking.
"I dabble in projects that have me building a variety of things with wood, most recently a few benches, stair-step planters, and a welcome-sign that holds a lantern or hanging flower".
Kat also enjoys cooking and trying new recipes.
For family traditions, Kat enjoys anytime you can get family together whether to celebrate a holiday, birthday, or just because.
"It makes for great memories. Some of my best memories growing up and even more recently are from family get togethers and being surrounded by all those you love."
Kat's future plans are, "…other than maybe a trip to Hawaii, for right now, I hope to continue with life as things are. I love the life the Lord has given me!".
---