The Hancock-Henderson Quill, Inc.
---
Sara Lefler Retires After 36 Years
by Tami Postle, The Quill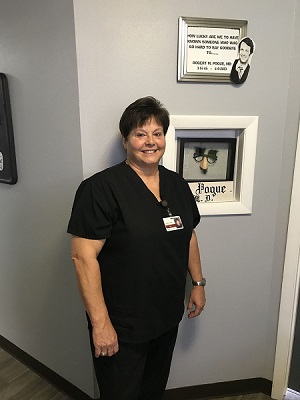 Sara Lefler is retiring after 36 years of serving the community as a Medical Assistant at the Stronghurst Medical Clinic.
Sara (Hartman) graduated from Southern High School in 1983 and attended the 11 month Medical Assistant program at Southeastern Community College in West Burlington, Iowa.
She started working after graduation at Stronghurst Medical Clinic with Dr. Robert Pogue in June of 1984.
After Eagle View bought Dr. Pogue's practice, Sara remained and has worked with 4 different providers since, including Michelle Bowen, PA; LuAnne Johnson, APN; Jennifer Reed, MD; and Craig Osborn, FNP.
Sara has been through many changes over the years but she says the most significant was transitioning from paper to computer charting.
Sara's last day was Thursday Sept. 17th and stated she will miss her patients and her co workers tremendously. She said it was a tough day for sure.
Sara plans on helping her husband at the family farm where they have hog, sheep and grain enterprises.
She will help with the business aspect as well as other chores but there is one thing she adamantly states she will not do and that is run the grain cart.
When asked if she will have a job title she replied "BOSS, duh!"
She states "I have worked outside the home all of our married life and now I will be sharing our farm."
Sara and husband Mark (who will celebrate their 36th wedding anniversary in December) have two children, Myles (Shannen) Lefler and Mara (Blake) Bessine and two grandchildren, Forrest 4 1/2 and Brooklyn 2.
Their third grandchild is due in March 2021, the first child for Mara and Blake.
---