The Hancock-Henderson Quill, Inc.
---
Business Spotlight
SCR STRONGHURST COLLISION & REFINISH
114 S. COMMERCIAL Street
Stronghurst, IL 61480
Phone (309) 924-1231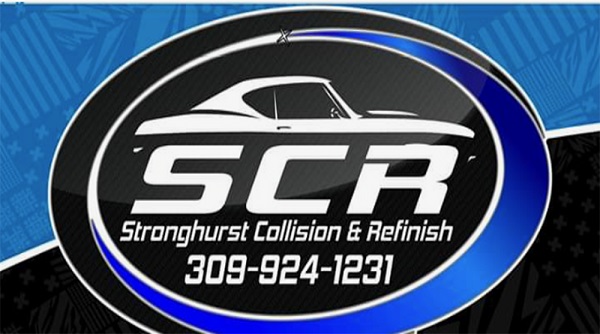 Stronghurst Collision and Refinish
Travis Pence purchased Stronghurst Auto Body from the Schaley's and opened his business on August 1st, 2016.
Travis and his two employees, Nate Torrance, also known as Mr. Fix-it-all, and Spencer Jack, a high school senior helper, mostly work on collision repair if you happen to hit one of those famous Illinois deer or one of those corn fed raccoons that can put a big dent in your car. Deer versus car collision repair is Travis' speciality. It is the most popular service he does.
Travis and staff also do auto restoration. If you have your 1966 red Mustang under a tarp in the barn, Travis would be happy to help you be the talk of the town by restoring the Mustang to it's glory days.
Stronghurst Collision & Refinish is open from 8 a.m. to 5 p.m. from Monday thru Friday, except when Travis and his 9 year old son, Lucas, need to pack up early to head to a racetrack for Lucas to race his Restricted Box Stock Wing Kart. Travis also races a sprint car at 34 Raceway during the racing season. Travis and Lucas are avid racing fans from participating to watching.
Earlier in the summer, Travis purchased a new paint booth, lifts and an alignment machine. As soon as he can find some time from his repair jobs, he is going to renovate the building and install the new paint booth and equipment.
After the renovation, Stronghurst Collision & Refinish will be able to do alignments, brakes, suspension and tires.
If you happen to have a run in with a deer, raccoon or trash can, give Travis and his team a call. They give free estimates.
---