The Hancock-Henderson Quill, Inc.
---
Meet Your Neighbor
BY: Donna Pindell-The Quill
Melissa Tate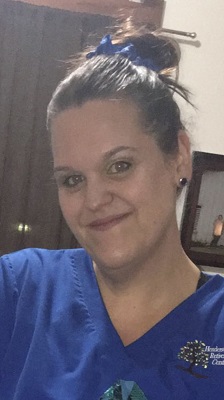 Melissa Tate was born in Burlington, Iowa and raised in Nauvoo. She currently lives in Colusa.
Her parents, David and Joni Kraft, and grandparents were all born and raised in Nauvoo. Her father was an ironworker, her mother worked at the Nauvoo Blue Cheese factory until it closed, then she worked at Methode in Carthage.
Melissa's paternal grandparents owned and operated Verona's Market, the produce/jams and jellies stand on the outskirts of Nauvoo, and her maternal grandparents owned and operated The Draft House bar and grill in Nauvoo, where her family worked off and on together over the years.
Melissa graduated from Nauvoo-Colusa High School in 1997 and became an LPN in 2002. In 2010, she earned her Associate's Degree in Nursing (RN) from Southeastern Community College in Burlington, IA.
As a nurse, Melissa's career has ranged from long term care, family practice, asthma and allergy, OB/Gyn, Labor and Delivery, Emergency Room and med/surge.
Labor and Delivery is what she considers to be her specialty. She always considered L & D to be more of an honor than a job because she thinks that anytime you are involved in finishing a job that God himself started, you can't help but feel humbled and honored to be a part of that special moment.
Currently, Melissa is the Director of Nursing Services at Oak Lane Nursing and Rehab. She has been in this position for a little over 4 years now and has completely fallen in love with this wonderful group of residents and co-workers.
Melissa was so afraid when she accepted the position because she had never done the administrative side of nursing. Now, she has truly come to love her job and the facility has become her second family.
Melissa is married to Justin Tate and they have 3 children. Lexi is 21, Justin Jr. "J.D." is 15, and Allisyn is 8. She also has twin step-daughters, Jade and Chloe Gittings, age 16 that live in Lomax.
J.D. and Allisyn live at home with us, and Lexi moved to Fort Madison, IA earlier this year with her boyfriend Jalen. Jalen works for Durand's Septic Service of Dallas City and Lexi is a pharmacy tech at Rashids/Rx in Fort Madison, Iowa.
The rest of the kids are currently doing online learning only, due to the pandemic.
Melissa loves music, singing, dancing, and classic (fast) cars. Unfortunately, she can't sing, dance, or drive very well, but that doesn't stop her from doing any of it!
She is also strangely obsessed with flowers and plants and she loves to be barefoot in her garden.
Melissa enjoys riding the Harley with her husband. She dreams of someday being able to travel to third world countries on medical mission trips to help deliver babies and provide OB care. (God willing)
Melissa's favorite Bible verse is Philippians 4:13 which reads, "I can do all things through Christ who strengthens me."
---