The Hancock-Henderson Quill, Inc.
---
Meet Your Neighbor
By: Donna Pindell, The Quill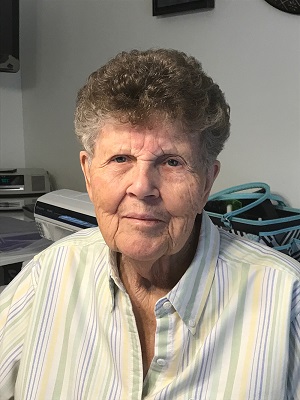 Alene Markey
Alene Markey was born on June 2, 1933 to Thomas and Alethea Gooding of Lomax.
Alene attended Lomax Grade School until she was 10 years old when her family moved.
After moving, she went to La Harpe Grade School then moved to Stronghurst and went to Heisler Grade School then Media High School. She graduated from Terre Haute High School. Alene also attended Gem City Business School in Quincy.
Alene married Dan J. Dehner and they had a son, Dennis (Karen) Dehner who live near Des Moines, IA and three daughters, Diana (Bob) Ramsden of Grayslake, Donna (Mark) Muhleman, of Stronghurst and Darlene (Larry) Fox of Stronghurst.
Alene's husband, Don, passed away in 1973. She then married Wendell Todd of Morning Sun, Iowa. Wendell passed away in 1993. She later married Wm "Tony" Markey of Dallas City.
Tony and Alene decided to start their own quilting business in Dallas City. Tony had Mark Muhleman build a room onto the garage. They bought a long arm quilting machine and started doing quilting classes. They loved every minute of their work.
Alene has been in business for 20 years, quilting over 6,000 quilts. The ladies they quilted for have become friends and are the nicest people you can come in contact with.
Tony passed away in 2010 so Alene moved to Stronghurst to be closer to her family.
When asked about her family vacations, she mentioned one that she will never forget. They went to Israel and Rome.
Alene attends church at the Divine Mercy Parish St. John's in Burlington, IA.
Alene joined the Flying Hooks and Needles group in Stronghurst.
Alene is most proud of her four children, ten grandchildren and eighteen great grandchildren.
Alene lives on Oakwood Drive across from Oak Lane Nursing and Rehab. She likes living in Stronghurst, she says.
"I find the people to be very friendly and helpful."
---