The Hancock-Henderson Quill, Inc.
---
Business Spotlight
GOOD DENTAL CARE
1481 STATE HWY 94, BIGGSVILLE, IL 61418
Phone (309) 627-9200
Website: www.goodfamilydental.com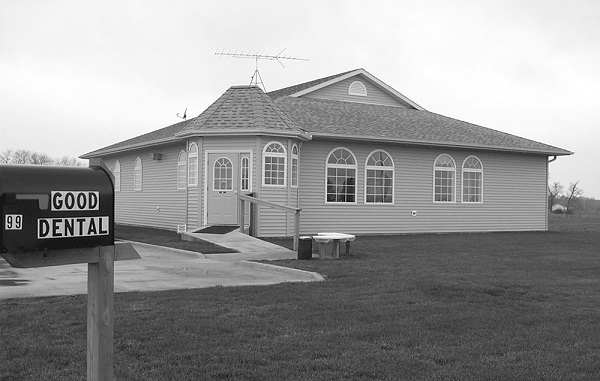 In 2002, Dr. Paul Good opened Good Dental Care in a new building west of West Central School near the Highway 34 and Highway 94 intersection. His idea was to offer excellent quality dental care in a relaxed and caring atmosphere.
Today his son, Brian, and daughter, Jennifer (Benge), work as the dentist and hygienist at Good Dental Care.
The office is open on Monday, Wednesday and Thursday from 8 a.m. to 5 p.m. Office hours on Tuesday are from 8 a.m. to 7:30 p.m. and Fridays 8 a.m. to 12 p.m. on two or three Fridays a month. An appointment is required.
Brian Good, D.M.D. is the current owner. He received his B.A. from Augustana College in Rock Island in 2002 and his D.M.D. from SIUE school of dental medicine in 2007.
Good Dental Care has five employees besides Dr. Brian Good.
Joni Dillard is the office manager. Christie Stewart and Connie Mesecher are assistants. Jennifer Benge and Jena Fisher handle the hygienist work and Linda Greenman is the receptionist.
Good Dental Care philosophy is to provide quality service with highly trained staff and provide dental care with the patients comfort and satisfaction as the top priority.
Good Dental Care provides dental care for all ages. Some of the services offered are: cleanings, fillings, extractions, dentures, crowns, tooth whitening, root canal therapy, Invisalign and braces.
Dr. Good said, "Cleanings, fillings and emergency extractions are our most routine procedures, but doing braces/orthodontics is probably the most enjoyable."
Dr. Good is married to Larisa, who is the Warren County Library Director. They have two children, Nadia who is in the 4th grade at West Central Elementary and Nathan who is in the 2nd grade at West Central Elementary.
The Good Dental Care staff welcomes you as a patient and appreciate the opportunity to provide you with dental service.
If you need dental service, call Good Dental Care and set up an appointment. They will be happy to take care of you.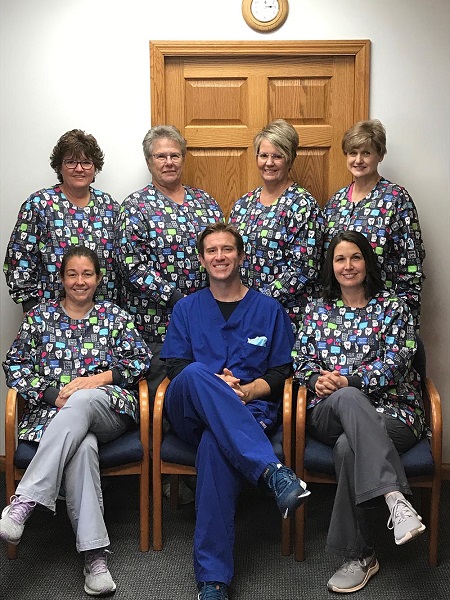 From left back is: Christie Stewart, Linda Greenman, Joni Dillard and Connie Mesecher. From front left: Jennifer (Good) Benge, Dr. Brian Good, and Jena Fisher.
---