The Hancock-Henderson Quill, Inc.
---
Township Has Successful Retirement Reception for Todd Stevens - Road Commissioner 31 Years
Many well-wishers from and around La Harpe Township came Sunday, Oct. 4th to the reception for Todd Stevens retirement celebration, held in the Union Church Fellowship Hall.
Donald "Todd" Stevens began working for the Township under his dad, Donald Todd Stevens starting in 1972. After "Don" retired, Todd ran for his Dad's position in 1989 and every 4 years since, finishing 31 years in the position of La Harpe Road Commissioner.
Taking Todd's position will be Duane Berlett who is a heavy equipment operator. Berlett's official appointment by the Township Trustees was made at their meeting on Thursday, October 8th. "I will be working for him on a part time basis when needed, "Todd said.
He served the township for a total of 48 years. Todd graciously thanked everyone and said how much he enjoyed working with everyone.
On October 1st, Duane Berlett of La Harpe took over as Road Commissioner. He said, all the roads are in good shape.
Duane has been spreading some loads of rock, changing oil and filters in trucks and in the Road Grader/Maintainer as he prepares for winter, mixing salt, sand and chips. Duane, like Todd, has been helping oil and chip roads for the county as well and will continue doing so. Duane said he graduated from La Harpe in the Class of 1976. He does custom bulldozing in a business formed with the Hunt Brothers "Cooperative Earth Works". He also hauls rock for people in the area. He has a sister Debbie Ruppert in Galesburg. His parents were the late John and Elaine Berlett.
Duane's children are: Seth (wife April) with a daughter Alexa of La Harpe. They own and run La Harpe Autoworks; a son Brent, a design engineer/toolmaker at Riverside Plastics (wife Christine Kienol) and their son Stefan. They live in Fort Madison, IA.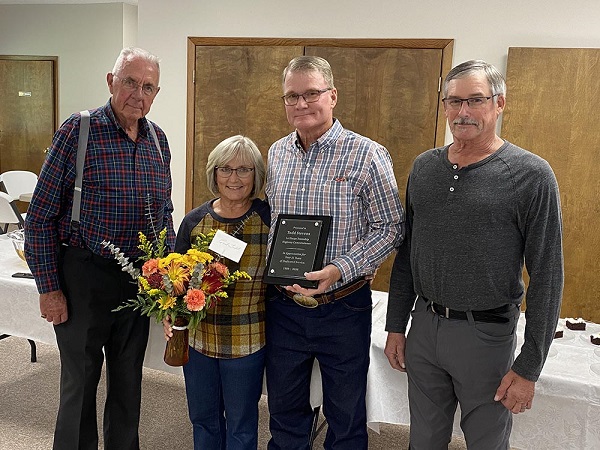 From left: La Harpe Township Supervisor John Louden, on behalf of the La Harpe Township, presented Todd Stevens an Appreciation plaque recognizing his 31 years of dedication as La Harpe Township Highway Commissioner. He also presented his wife Carol Stevens a bouquet of flowers for all those nights Todd was gone clearing roads and she was home alone. At right is Duane Berlett, heavy equipment operator and part time worker for the township who accepted the appointment as La Harpe Twp. Road Commissioner October 1st.
---