The Hancock-Henderson Quill, Inc.
---
Meet Your Neighbor
By: Donna Pindell, The Quill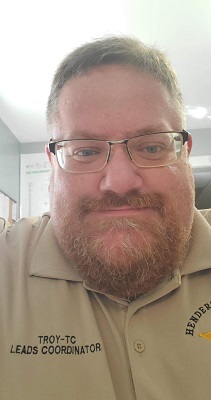 Troy Jern
Troy Jern was born in 1974 to Hal and Betty Jern of Oquawka. Troy has been a lifelong resident of Oquawka.
Troy attended Union School District and was a 1994 graduate.
Troy has two brothers, Jason Jern and family are from Oquawka and Bruce Jern and family are from Cambridge.
Troy has 3 children: Markus-22, Adam-21 and Kayleen-17.
Troy is employed by the Henderson County Sheriff's office as a dispatcher/jailer and currently has the title of Lead dispatcher/jailer. He started working at the sheriff's office in July of 1998.
He has worked for four different sheriffs in his career at the sheriff's office, Thompson, Lumbeck, Haynes and Seitz.
When asked what his hobbies were, Troy replied: "I am the fire chief of the Oquawka Fire Protection District and have served on the Oquawka Fire Dept since October, 1992. I enjoy helping our fine citizens of Oquawka and Henderson County."
Troy takes his passion for fire protection to another level by collecting toy fire trucks.
Troy isn't much of a "vacationer'. He enjoys staying around home, spending time with his family and friends. The Jern family always have a family dinner on Sunday evenings at Hal and Betty's house, Troy's parents.
Troy favorite quote is, "It is what it is!"
Troy wanted to share two final thoughts. Always shake the hand of a veteran and please vote on November 3rd.
---