The Hancock-Henderson Quill, Inc.
---
Meet Your Nieghbor
by: Donna Pindell, The Quill
Candie McDonald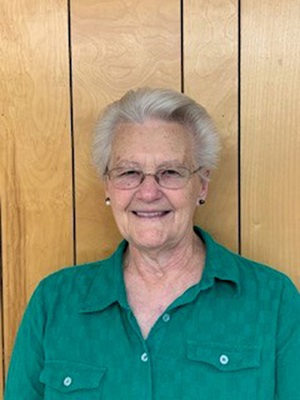 Candie McDonald was born in Canton and lived most of her life in the Little York area. She currently resides in Kirkwood.
Her mother, Carol Welker, is still living at Legacy Estates in Monmouth and will be 90 on her next January birthday. Her father passed away of cancer in 2003. Candie's maternal grandparents, Harold and Phoebe Allen, lived around the Roseville area. Her paternal grandfather William Welker lived around Farmington and her paternal grandmother, Phoebe Hedges lived in the Peoria area.
She has 2 sisters, older sister, Barb Wiechman, retired and living in Texas, younger sister Roberta married to Robert Legendre, living in Oregon.
Candie attended Kirkwood Elementary for kindergarten, 1st and 2nd grade. Then her family moved to Little York where she lived when she graduated in 1975 from Yorkwood High School. She was in PomPon at YHS four years and also was in school plays.
In June of 1992, Candie married Mike McDonald. She has two children by a previous marriage and one son with her present husband.
Mike Osborn, Candie's son, is the Technology Coordinator for the Lewistown School District. His wife Jenny is a surgical nurse at Graham Hospital in Canton, the same hospital Candie was born in. Her son Mike and daughter-in-law Jenny have two children, Ella and Lucas.
Kim Damewood, Candie's daughter, is in management at Walmart in Galesburg. She's married to David (DJ), employed by the Knox County Police Department. Kim and David have two sons, Leighton and Levi. Kim, DJ and kids live in Abingdon.
Aaron McDonald, Candie and Mike's son is the Physical Education teacher at the Elementray School in Rushville. He is in a relationship with Candice O'Malley.
Candie worked at Melings Restaurant in Monmouth for 13 years after high school graduation. A short employment in shipping for Smoler Fashion, then Munson Transportation where she started in the parts room, then moved to a Dispatcher in charge of several drivers.
Eventually Munson closed, and she received a phone call from Tom Spreitler, who lived in Kirkwood, to apply for the open position in the COUNTRY Companies office in Stronghurst.
Candie started working at COUNTRY Financial in Stronghurst in November of 1995 as the office manager. This year is her 25 year with the company and the rest is history!
Outside of work, Candie enjoys spending time with her grandchildren and sisters when they come back to Illinois to visit. Candie remembers a vacation to Las Vegas for a week with her husband that was quite fun
Mike and Candie enjoy getting out to Oregon to visit her younger sister and the beautiful area. They usually have family gatherings at their house for the holidays, which is loads of fun!
Candie's future plans are up in the air, but she said "Stay tuned!"
---