The Hancock-Henderson Quill, Inc.
---
Republican Lincoln Day Dinner Gather Voters and Future Voters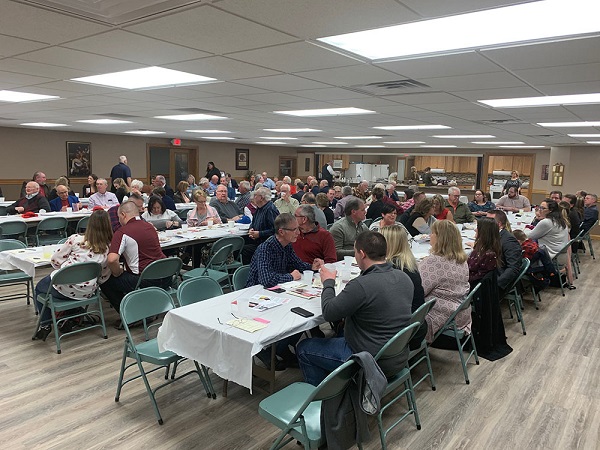 REPUBLICANS RALLY
The Henderson County Republican Lincoln Day Dinner was held Monday Eve at St. Patrick's Community Center, outside Raritan. - After a delicious roast beef and pork tenderloin meal, President Bill Knupp invited Amanda Van Arsdale to lead in the pledge of allegiance to the flag of the United States of America.
Guests, Precinct Committee chairs, those in office, or running for office, were introduced as well as those from nearby counties.
Speakers were ...
Precinct Committee Chair of the Republican Women.
Andrew Doyle of Monmouth running for Circuit Judge who has been serving as States Attorney of Warren County and was the former city attorney for Oquawka.
Dr. Tom Tarter running for U.S. Senate, who retired as a physician in July to run and improve the state of Illinois. He says he will represent all of Illinois not just Chicago and stands with Trump on improving immigration issues, health care, and holding down taxes and improving the business climate.
Esther Joy King running for U.S. Congress will be a strong independent voice for people, not partisanship bringing back principles that matter and policies that work she says and solving problems.
Auctioneer Ethan Bigger of Bigger's Auction Service, Media, helped raise a lot of money for the Republican Women's Scholarship fund by selling off some delicious baked goods and a framed poster plus individual posters of an earlier fish fry.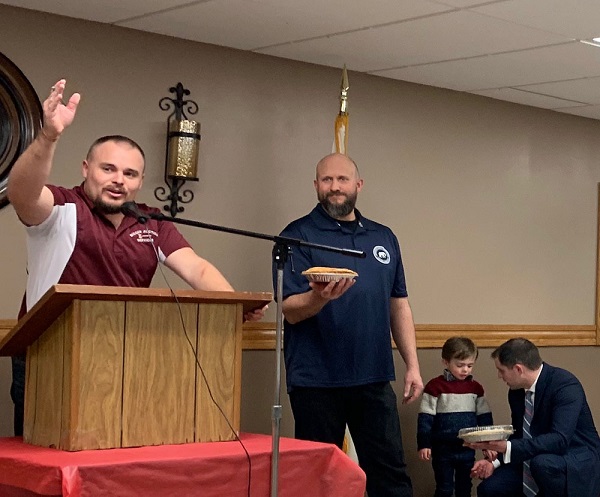 Auctioneer Ethan Bigger of Media brought premium dollars for the Republican women's homemade pies and baked goods to greatly benefit the Republican Women's Scholarship fund. Stronghurst Precinct Chair Jon Riley holds the prize, a Cherry -Rubarb pie. In the background, Henderson CountyStates Attorney Colby Hathaway explains to his son about auctions and what's going to happen to the next pie.
---