The Hancock-Henderson Quill, Inc.
---
"Be Still Yoga"
A new business and community ministry is opening in Stronghurst, Be Still Yoga. It is owned and operated by Donna Painter. C-HYI 225. (*Certified Holy Yoga Instructor)
Donna is a lifelong resident of Stronghurst and has always had a passion for serving children and others. Though this new endeavor she has the opportunity to reach more people and revive a well known and well loved building on Broadway Street in Stronghurst.
As a result years of prayer, faith, belief, training and hard work, Be Still Yoga will have a Grand Opening celebration on March 21, from 9 a.m. to 11 a.m. and later that day from 1 p.m. to 3 p.m.
Be Still Yoga is located at 104 S. Broadway Street in Stronghurst, between the Stronghurst Post Office and the Feedlot Grill.
Hearing His voice: Donna said, "I have always been a busy person and I felt God saying to me, 'Donna, just breathe'.
"I had no idea what He meant. Did I need to slow down? Did I need to try something new? Did I just need to seek Him more? Not knowing where to start, I decided to search "Christian Breathing' online and I discovered an organization called Holy Yoga.
"I read their mission statement of faith and statement of practice. To my great surprise, it aligned perfectly with what I wanted to provide to our local community. I prayed and fasted and felt God saying, "Will you go?" I said "Yes"!
Training and certification: In 2016, she received her certification in Raindrop Technique through Young Living. Raindrop Technique is a unique way of using essential oils for rejuvenating, relaxing, harmonizing and aligning the body and mind for wellness.
In 2017, she started classes with Holy Yoga. In October of that year, she went to Arizona to receive her certification as a Holy Yoga instructor. She continued her training in New York with certification in touch trading, chair yoga, children's yoga, and yin & Yang. In June, she will compete therapy certification, which is a whole body treat: body, soul, mind and strength."
In addition to obtaining certifications, Donna has been teaching 4 yoga classes per week for the last two years in Stronghurst. "God brought some amazing women and children each week and the results have been incredible. Results include letting go of stress, reducing tension, better sleep, better digestion, increased balance, improved processing of emotion and most importantly drawing closer to God", said Donna.
Donna said, "When my mom was in Oak Lane Nursing & Rehab, I saw the value of movement and breathing techniques for people of all ages. If you think you can't do yoga, think you are too old for yoga or that it is just for women that is false. You can breathe, so yoga can be beneficial for you."
Soon after the grand opening, she will offer a yoga class for men. Men carry the weight and burdens of stress and strain to their body in significant ways which can lead to other health issues.
With the controlled movement and breathing go yoga, men can improve their overall wellness. With her current certifications she will be able to provide the following services. Raindrop Technique (by appointment), children's yoga, chair yoga, men's yoga, and restorative yoga.
Location: She said, "When I was a child growing up in Henderson County, it was always a special treat to go into Stronghurst to "Allen's' store on Broadway where a dime would fill your hand with candy! I'd get lost in the wonder of the old wooden floors and glass jars lining the counter and shelves. This was a special place and many in our community remember it fondly." Since then, this location has been a pool hall, video store and recently The Alternative Hair Salon.
In 2016, she began utilizing a space in The Alternative for Raindrop Technique.
In the spring of 2019, she made an offer to the Peterson brothers to purchase this beloved location to expand her Raindrop Technique service and have a large yoga studio space in order to serve more people. Through many generous hands in the community working alongside her, Be Still Yoga is now a reality!"
Donna said, "God has been working throughout this entire process and opening doors before I even had the dream of staring my own yoga studio. He orchestrated the location, gave me a passion for serving, and strength to persevere, surrounded me with generous people and brought this dream to life."
God invites each of us to Him and all are welcome. All we have to do is believe and say "Yes!" To His mission: Loving people, building community in the name of Jesus."
Be Still Yoga will hold classes on Tuesday, Wednesday, and Thursday evenings.
"Come and breathe with me," said Donna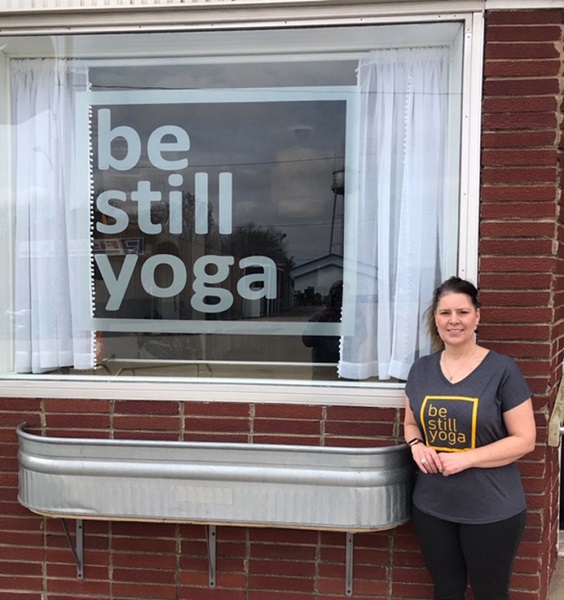 Donna (Carnes) Painter stands before her fully revamped and redecorated new business "Be Still Yoga", a former beauty shop located between the Feedlot Grill and the Stronghurst U.S. Post office, downtown Broadway Street. Donna will have her Open House - Saturday, March 21st; 9-11 and 1-3.
---