The Hancock-Henderson Quill, Inc.
---
Adventurer Norman Surplus Sets World Record In His G-yrox
By Dessa Rodeffer, Quill Publisher/Owner
Cancer Survivor Made historic round-the-world trip in an autogyro
Stopped In Biggsville Overnight
His name is Norman Surplus, of Larne, Ireland, a 56-year-old cancer survivor, husband, and father-of-two who set a record by circumnavigating the globe in a gyrocopter, the first ever to do so.
His ambitious 27,000-mile expedition began March 22, 2010 with Mr Surplus flying over 26 countries in an autogyro - the aircraft made famous in the 1967 James Bond film "You Only Live Twice."
Rather fitting, since Surplus was not given good odds in fighting bowel cancer. But he did overcome the cancer and during cancer treatment was inspired by a Televised restoration project of a gyroplane.
What should have been a 115-day journey, ended up taking Mr. Surplus 9 years traveling from Sandy Bay in Larne, across Europe, and the Mediterranean Sea, past the Egyptian Pyramids, over Saudi Arabia, over India, Asia and Russia, along the Canadian Rockies into the USA, round the tip of Greenland and through Iceland before finally flying home via the Faroe Islands.
In doing this he became the first person to fly an autogyro round the world.
He said "The trip was designed to promote hope and encouragement for current cancer sufferers across the globe. Also, I want to say that there can be life worth living beyond the very real challenges of cancer treatment.
"I had cancer in 2003 and I had surgery and chemotherapy in 2004. While I was recovering from the surgery I was watching television and saw a restoration program where they were repairing an old autogyro they had pulled out of a barn. I did a bit of research and found out of the 7 types of aircrafts, the Gyro is the only one that had not been around the world. It was kind of left behind."
Then he found that there was a school in United Kingdom where you could do your pilot's license.
So he thought, "...if I get through the treatment, there's something I'd like to try and do."
Prior to all of this, Surplus with his brother had started a wind farm company which they ran for several years. As wind farms expanded, he and his brother had the good fortune of selling it to a bigger company and Norman gained a seat on its board of directors.
After the cancer scare and beating it, after given little hope except for his young age of 40 which allowed him a stronger dose of chemothrapy, Surplus was sure he could do what had never been done.
Cruising at about 200m (656.17 feet) above the ground in an open cockpit craft measuring just 16.4 feet by 4.9 feet would not be the easiest or most comfortable way to travel the globe.
But being cooped up for about six hours a day is nothing compared to the logistics of organizing the expedition.
"The flying is really the easy bit," he said. "It's getting everything else gathered up, the visas and the different money that's gave him the headaches.
"The main breakthrough has been getting permission from the Russians to fly across the far east part of Russia. We have to get across that bit of Russia to get to Alaska and it's the only way to get over the Pacific.
"They said yes in principle that I could do it, but I need to be able to speak Russian on the aircraft so the British Embassy found a volunteer to sit in the back."
He added: "I'll also be wearing a special flight suit for the trip so in case I did have to ditch in the Atlantic or somewhere I'd have my dry suit on with a personal locater. I'll be carrying a life raft as well.
Surplus said he is the second coxswain on the Larne Lifeboat (similar to the U.S. Coast Guard) so he has had plenty of experience in survival training.
What Is A Gyro
Many can be confused of just what one is talking about when they mention a "Gyro".
Perhaps the first thing that comes to their mind is that Greek dish made of meat, traditionally lamb, pork, etc. cooked on a vertical rotisserie, and usually served wrapped in a flatbread such as pita.
But Surplus, who landed in his now famous gyrocopter at the Matt Defenbaugh airstrip in Biggsville in July, explained in an interview for "The Quill" just what the aircraft is and why he decided to accomplish this feat.
"A gyrocopter looks like a helicopter, but it flies more like a fixed wing and is a very old type of aircraft.
The first one flew in 1923 only twenty years after the Wright Brothers took their first flight, and in all those years (96 years), none of this type had ever flown around the world.
Surplus said, "It was such an amazing find to find that every other type of aircraft had flown around the world but it was the only one that hadn't.
"The autoplane was a forgotten relic from the Twentieth Century. In the 30's they had a hay-day.
"This was before helicopters, and they were flying them coast to coast in America and Amelia Earhart flew one at 18,000 feet and set an altitude record!
"The first aircraft to land on The White House lawn was an autogyro in Washington DC. and took off again.
"So, they were doing all sorts of great things in the thirties, but after the helicopter was produced, the autogyro sort of fell out of favor a little bit and it got forgotten about.
"After the 2nd World War then they became a very small type of aircraft best known for "Little Nellie" in the James Bond film, " a little yellow aircraft that came in four suitcases," Surplus amused.
"In 2010, I set off, to have a go at this flight to fly one around the world, There had only been one attempt before me," Surplus said.
Barry Jones from the UK had tried in 2004 leaving from the UK and got as far as India, his aircraft got flooded by a monsoon in India but he set the scene to show these aircrafts could fly these long distances and that this could be done.
Surplus was only the second attempt. It should have only taken four months to make the flight, he said, but instead it has taken nine years due only to the Russians.
"I set off in good heart on the 22nd of March, 2010 from Northern Ireland from a regular sports field next to my house in Larne, Ireland just north of Belfast.
"Then I flew down through Europe, France and Italy and Greece across Europe and the first to fly over the Mediterranean Sea, the first gyro to fly over the water, and then down through Egypt and Saudi Arabia, I crossed the Middle East basically, across India and down thru SE Asia.
"I got down as far as 1 degree north of the Equator just north of Singapore, right though the jungles, and then I turned northeast. Around August 2010 and flew through Borneo, the Philippine Islands (where he wintered) and then Japan (2011) and I got stuck for 3 1/2 years in Japan."
-----
"In Thailand, newspapers reported: "A man from Larne attempting to fly round the world in an autogyro has had to make a forced landing.
"Norman Surplus was uninjured in the accident which happened as he was trying to take off from a landing strip in Thailand on Saturday. His aircraft is being assessed for repair.
"The adventure sportsman and cancer survivor has been planning the 27,000-mile journey for two years and it involves stop-offs in 25 countries.
-----
Another newspaper report said, "Norman Surplus set off from Larne in March:has traveled almost 18,000 km as far as the Philippines.
"The adventure sportsman and cancer survivor wrote on his blog that wintry conditions in the North Atlantic meant he had to call "half-time" on his world record attempt.
"Mr Surplus said unforeseen delays earlier in his voyage - which included a forced landing as he tried to take off in Thailand in May - meant he had missed the summer window to cross the Bering Sea .
"Being so far north in latitude, it is deemed only suitable to navigate light aircraft by this northern 'bridge' across the Pacific Ocean and International Date Line during the very briefest of summer months."
-----
Another report said, "By mid September, the harsh winter conditions are again closing in and access to the region shuts down once more and will remain so until the late spring."
Having taken a well-deserved rest, Mr Surplus said it was "time to pause and reflect on a fabulous first half played out over half the world's surface". He said his craft had "now flown a further straight line distance than any other autogyro in history, crossing some 16 consecutive countries". Mr Surplus still has some massive challenges ahead of him, with his planned route taking him over Russia, North America and Greenland.
An article by David Maxwell of the British Broadcasting Corp. London, England. (BBC News) reported:
Norman Surplus writes letter to President Putin
"A County Antrim man who is trying to fly around the world in a gyrocopter has appealed to the Russian president for help ahead of the G8 Summit.
"Norman Surplus, from Larne, has written to Vladimir Putin asking for permission to fly over his country's airspace.
Since July 2011, his aircraft has been stuck in Japan because the Russian authorities have not granted him permission to fly over their airspace. Mr Surplus can't cross the wide expanse of the Pacific Ocean in his aircraft and must instead cross the narrower Bering Sea to reach the North American continent.
"This means he needs the green light from the Russian civil aviation authorities.
"He told the BBC that he can't understand the delay.
"Russia has been the only country in the whole world which has been very difficult. Others have gone out of their way to help and we can't work out why they would be like that," he said.
Appeal
"This is a fairly straightforward flight that would take six or seven days and yet without any reason they have delayed this record attempt by over 20 months."
Mr Surplus has made a direct appeal to Mr Putin, who will be visiting Northern Ireland in June. In a letter he said: "I am sure you will be afforded a warm welcome in our very small, but very beautiful country.
"I therefore make this simple appeal to you directly... as you are to be hosted in my country, that I could be similarly hosted in yours..."
Mr Surplus's gyrocopter has been stored in Shona in north west Japan since his journey was halted.
Window
The Larne man has a narrow window in which to cross the Bering Sea - it must happen during the Arctic summer and so he is hoping that the Russian president will intervene and he will be able to continue his journey soon :he said it is "red tape" that may force him to abandon his record attempt if the Russians do not give him the go-ahead.
---------------------------
Norman Surplus, after wintering in the Phillipines and then being stuck three and a half years in Japan, trying to get permission from the Russians, said, "I decided I had to move on.
"So we put the aircraft in a container and shipped her across the Pacific to McMinnville Oregon where the Evergreen Aviation and Space Museum is located, home of the Howard Hughes flying boat, the Spruce Goose.
(It also has displays ranging from the elegant aeronautic designs of two bike mechanics - Orville and Wilbur Wright - to an actual Lockheed SR-71 Blackbird that can fly at speeds of over 2,000 miles per hour.)
"They were quite helpful and I was able to display her there as part of history as the furtherst flown Gyroplane.
"So it was on display there from 2014-2015. And then I returned in June 1, 2015 and I flew from Portland Oregon to Portland, Maine.
Then to Quebec, Canada and into the Arctic Circle, across the Davis Strip to Greeland and this was the start of the Atlantic Crossing.
"I flew around Greenland and then to Iceland and to the Farrow Islands and then to Scotland and then to my hometown arriving on August 11, 2015.
"I thought at that point I was finished. I had flown around the world except for Russia. I had gone across the Atlantic, the first one to do so, and I thought probably I was finished.
"Another guy a year later - James Keschel was kin to try this flight around the world. He contacted me and I had meetings with him and told him what he needed to do.
"It took him 3 years to gather the money and sponsors and to learn to fly and then he was all set to go this spring of 2019. He was going to go the same route I had but about 2 months before he was due to set off Pakastan had shut there airspace for all GA traffic.
There was not a good way to get to India any other way using Surplus's route. It was too far.
Surplus said, "In the mean time, Russia had loosen up and so we decided to fly it together. He was a low hour pilot and it was a great way to start his journey along side of me and it was a more safe way.
"It was a 17-day journey and it took us a month. Seven time zones, its wide-a huge country.
"We then got across the Bering strip and to Norm in Alaska and flew down from Norm to Seattle and back to McMinnville, Oregon at the Evergreen Aviation and Space Museum on June 28, 2019."
Norm accomplished his goal. He has flown some 27,000 miles through 32 countries and has also become the first to fly an autogyro over the Atlantic Ocean.
While it has taken him nine years to finish, he hasn't continually been flying the whole of that time, having to halt the adventure temporarily when facing difficulties with permissions to continue.
It should have only taken four months to make the flight, he said, but instead it has taken nine years due only to the Russians. His "never give-up" attitude was worth it in the end.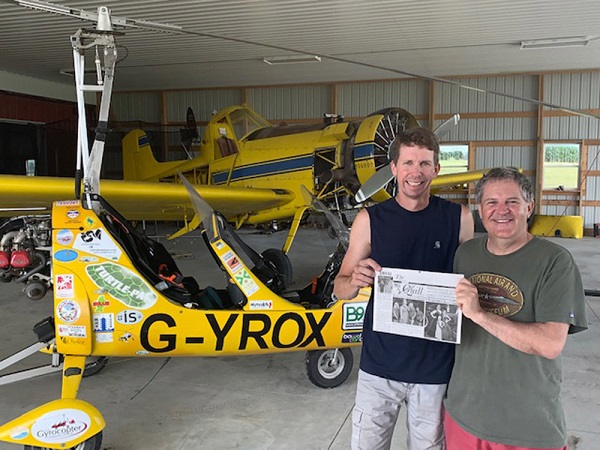 Norman Surplus, July 18, 2019, the same month after breaking the world record as the first to circumnavigate the globe in a gyrocopter, stops by and spends the night in rural Biggsville with Matt Defenbaugh (left) who has an air strip and also owns an autogyro. Surplus was on his way home to Ireland by way of the Wisconsin Air show where he was invited as special guest exhibitor. Of course Norman took "The Quill" along.
---