The Hancock-Henderson Quill, Inc.
---
The Life Of A Tree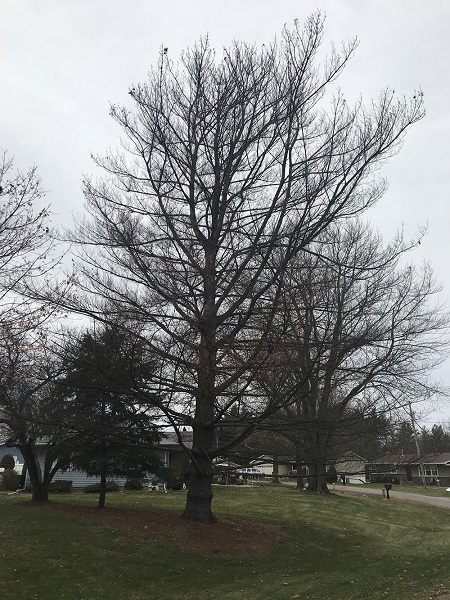 When Brian Jones of Biggsville was in either kindergarten (1975) or first grade (1976) at Biggsville Grade School, his class received a tree twig to celebrate Arbor Day.
The tree seedlings were given out by Page Randall Sr. for several years at the school. It is not known where Mr. Randall got the seedlings, maybe from the State of Illinois.
Mr. Randall, born on October 11, 1895, was a farmer in the Biggsville area for most of his life. He didn't finish grade school, but that didn't stop him from teaching kids about the things he loved, mostly trees.
In the 1940's, Mr. Randall built a saw mill because of his interest in trees. It was located in the area of the South Henderson Cemetery. His livelihood came from farming, but he built the saw mill because his love of trees.
Mr. Randall enjoyed teaching kids especially the 4-H members and was a 4-H leader for many years. He was actually one of the committee members that started the Henderson County 4-H Club.
Mr. Randall took college students on tours of the timber next to the cemetery to teach forestry. His daughter, Barb Gray, said that he was extremely proud that he didn't finish grade school, but he taught college.
Barb also said that her father went to Russia with a group of men to learn and teach farming techniques.
So to celebrate Arbor Day, Page Randall, Sr. would provide seedlings to the children at Biggsville Elementary School. The school would take a bus load of students to Mr. Randall's tree farm each year.
When Brian Jones received his seedling/twig which was approximately 6 inches tall, he planted it at his house in the Worthy Acres addition in Biggsville.
In 2018, the tree produced over 5000 pine cones that Brian's Dad, Frank, had the pleasure of picking up.
Unfortunately, the tree died and was cut down and removed recently. The tree was about 45 years old and stood approximately 60 foot tall. The tree trunk was 11 feet around or 40 inches in diameter.
It isn't often that you can trace back the history of a tree, but for Frank Jones, it was a sad day when the tree his son had planted was cut down, but remembering the history of the tree made the situation a little better.
---