The Hancock-Henderson Quill, Inc.
---
La Harpe Davier Closed It's Doors Tuesday, Dec. 22nd
by Dessa Rodeffer, The Quill
Residents and employees at the La Harpe Davier Care Center in La Harpe received shocking news last week that their facility was closing as of Tuesday, December 22nd.
Eighteen residents called it home.
Many said they wished they had been given 30 days notice rather than 5 days!
But, according to Tonya Hill Corporate Director of Census Development at Petersen Health Care, the move to close the La Harpe facility came after much deliberation of considering the history of financial struggles, and of finding they could not guarantee the ability to staff the facility in a way to keep residents safe.
"We let people know as soon as we found out that we could not guarantee adequate staffing in the future to safely take care of our residents and we must close the facility," Hill said.
"We had to move quickly as it is dangerous for our residents. We had to consider their safety first," she said.
"The pandemic has posed unique challenges for everyone in healthcare unlike anything in recent history.
"It has impacted almost every area of our lives and yet Americans continue to move forward with hope and perseverance.
In their press release, sent to the Quill on the 22nd, it stated:
"Due to the unprecedented health crisis caused by the Pandemic, La Harpe Davier Health Care Center and many other healthcare organizations have been forced to employ strategies to mitigate many shortages including potential staffing shortages.
"And although we at La Harpe, have been able to maintain appropriate staffing levels up to this point, we have found it increasingly difficult to do so.
"We remain steadfastly committed to our responsibility to keep Residents safe, and thus without the ability to guarantee sufficient future staffing at this location, we have made the difficult decision to close the facility to protect the safety of the most vulnerable population."
Petersens own a large chain of health care facilities of which residents have been informed of, as well as other nearby facilities, Hill said. They were also transporting them safely to the place of their choice.
"None of La Harpe Davier employees have lost their jobs, but have been offered employment in our other facilities," Hill said,
If there is any good news in this pandemice, Hill said, "Our facilities are being set up for all front line workers to be the first to receive the vaccine" for Covid-19. "Our facilities are the safest place for Residents to be."
The statement to the public concluded:
"To the Friends, Families, and Community: We deeply appreciate the trust you have placed in us to care for your loved ones and to be a part of this community.
"We want you to know that we remain unwavering in our dedication and commitment to do all we can to insure the safety of our Residents and Employees and continue to embrace them all as a part of the PHC family.
"To our Dedicated and Valued Staff:
"We want you to know that it is because you remain on the front line, helping us protect this especially vulnerable population that we have been able to forge ahead through this difficult time.
"We deeply appreciate your unwavering dedication and commitment to keeping Residents safe and for continuing to compassionately care for them. Thank you for your loyalty!"
Petersen Health Care said they will continue to navigate the unique challenges presented during this unprecedented time.
Hill said the company had sent a transition team to work with the 18 residents to move them to their choice of another Peterson Heath Care facility.
According to its website Peterson Heath Care operates nine other care facilities within 50 miles of La Harpe and nearly 100 facilities in total.
"We remain hopeful for the future," Tonya Hill said. She can be reached by phone at: 630-849-4302 or email: thill@petersenhealthcare.net
Nearby facilities owned by Petersen Health Care include:
-------------------------------------
Roseville Rehabilitation & Health Care Center,
145 S. Chamberlain St., Roseville IL 61473
Phone: 309-426-2134
-----------------------------------
Legacy Estates of Monmouth
1200 W. Broadway, Monmouth IL 61462
Phone: 309-734-0909
-----------------------------------
Courtyard Estates of Monmouth
One Courtyard Boulevard, Monmouth IL 61462
Phone: 309-734-9355
-----------------------------------
Countryview Care Center of Macomb
400 West Grant Street, Macomb IL 61455
Phone: 309-837-2386
-----------------------------------
Courtyard Estates of Bushnell
1201 North Cole Street, Bushnell IL 61422
Phone: 309-772-8000
The Nursing Home Closest to La Harpe (16 miles) is not a Petersen owned facility but is self-owned by
Annie Jane Fort Henderson County Retirement Center, Inc.
not-for-profit dba: Oak lane (Nursing & Rehab)
OAKWOOD ESTATES (assisted Living)
at 604 Oakwood Drive, Stronghurst, IL 61480
Valerie Lybarger-Adams, Administrator
Phone: 309-924-1123
Oak Lane is a Medicare and Medicaid certified skilled nursing and rehabilitation facility and Oak Wood is a supportive living facility.
They opened June of 1989 after many years of fundraising by the community with 12 skilled beds and one dining room. It has grown into a 58-bed skilled nursing home, with an assisted dining room, an independent dining room/activity room, a separate laundry/maintenance building, an Outpatient Therapy Clinic, and newly remodeled wings and Nurse's Station.
Oak Wood is a Supportive Living facility that accepts Illinois Supportive Living and private pay residents. Together they provide full spectrum senior housing services.
They have five vehicles to transport residents to and from their doctor's appointments if their families are unable to drive them. All residents are sent with a Certified Nursing Assistant, to help them during their trip. They encourages residents to retain the doctor or doctors of their choice although they have a resident doctor who stops in.
Their activity department provide entertainment and daily activities for all residents. Activities include music, reading, weekly bus rides, Elvis, the WII, and Bible study, to name a few. The Resident Council also gets together once a month to express their opinions on things going on throughout Oak Lane.
Three meals plus snacks throughout the day are provided by the dietary department. No matter your eating preference or nutrition needs, the kitchen is happy to provide an appetizing meal for each of our residents. Guests are always welcome to come join their family and/or friends for meals as well.
They are accepting new residents. You may call 309-924-1123 to set up an appointment with Valerie, Admissions Coordinator.
The building is overseen by the Board of Directors: Pres. Diana Doran, Vice Pres. Ralph Tatge, Secretary Nancy Stevenson, Treasurer Mary Reed and board members Thomas Pullen, Cindy Leake, Dave Gerst, and Jayne Olson.
They are a not-for-profit under the umbrella of Henderson County Retirement Center, Inc., along with Oak Wood Estates.
They offer intermediate care, rehabilitation with Occupational, Physical, and Speech Therapy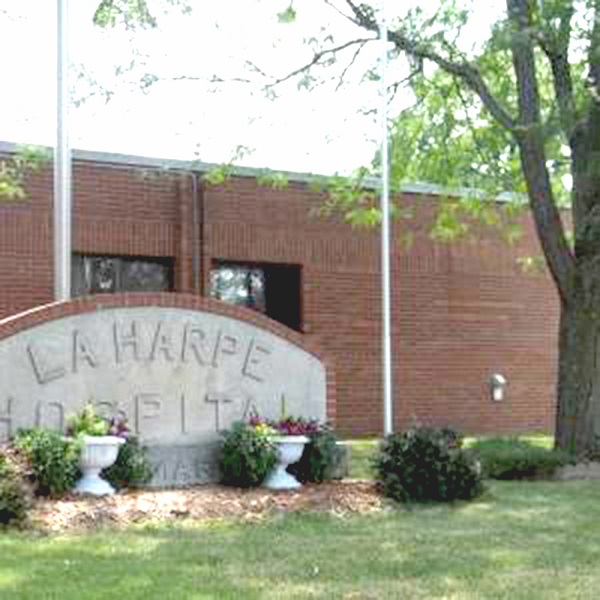 La Harpe Davier closed its doors as of December 22, 2020, just shy by three years of 100 years from the dedication of the building as a hospital in 1923, thanks to the bequeath of Mary Davier and the like-minded people who gifted money, and services. Upon the death of Mary Davier July 21, 1910, the reading of her last will and testament bequested $30,000 to the City of La Harpe to be used to construct a hospital, 110 years ago. A 12-year court battle by some of Davier's heirs who contested the will resulted in a $23,000 settlement for building La Harpe Davier Hopsital. On November 26, 1923 the Mary Davier Hospital was dedicated and the first baby was born Nov. 30, 1923 - twin sons to Mr. & Mrs. Willard Kern. The first girl was born March 9, 1924 and was named Mary Davier, born to Mr. & Mrs. Glen Wendling. Years of service revolved into a doctor's clinic and then a nursing and assisted living facility.
The community leaders are working to see if there is anything they can do to encourage its use here in health care in these changing times. Rebecca Quivey agreed to continue La Harpe Davier's food services for senior citizens meals at the same $4.00 cost per meal.
---