The Hancock-Henderson Quill, Inc.
---
Business Spotlight
by: Donna Pindell, The Quill
RIVER BANK FABRICS & MORE
321 Schuyler st., oquawka, IL 61469
Phone (309) 599-1070
web: http://www.randallsperf.com
email: randallsperf@hotmail.com or see us on Facebook
River Bank Fabrics & More was opened in September of 2013 by Coral Seitz. Coral and her husband, Roger, a retired Tug Boat pilot are the current owners.
The building, where the store is located, has quite a history. It was built in 1851 as a home. In 1919, the Oquawka Bank was established, bought the property and used the building. When the bank moved into its newer building, the old building was sold to Willet Wandell, who used the building as an office. Roger and Coral purchased the building in 2012.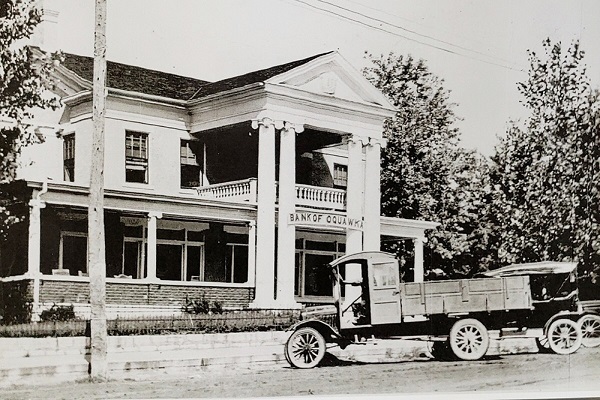 River Bank Fabrics & More is open Tuesday thru Friday from 10 a.m. to 5 p.m. They will close on Christmas Day and December 26 as well as New Years Day and January 2, 2021. No appointment is needed. You can drop by anytime during business hours.
River Bank Fabrics & More sell quality quilting fabric and sewing supplies. The shop also sells BERNINA sewing machines and sergers and BERNINA accessories for the machine.
The store has two certified BERNINA technicians who service and repair all BERNINA machines.
Other offerings in the shop are classes learning to use BERNINA sewing machines, sergers, and embroidery machines and the embroidery software.
Also there are a variety of sewing classes: quilting, totes, block a month and machine embroidery.
This year, River Bank Fabrics & More started offering classes on ZOOM. You may call the shop to get a list of those classes or watch the FACEBOOK page where they are posted.
The most popular item sold is fabric and BERNINA sewing machines. The staff takes pride in being helpful with how to use the sewing machines and troubleshooting any problem that clients have with their machines.
River Bank Fabrics & More FACEBOOK LIVE every Wednesday at 7 p.m. and has become very popular. The staff gives sewing tips, show how to make small projects, and show new products.
River Bank Fabrics has 8 part-time employees: Lou Pruett-sales clerk and teaches classes; Mary Crum-sales clerk; Chris Nelson-sales clerk and teaches classes; Jodi Ackman-sales clerk and teaches classes; Mel Armstrong-sales clerk and teaches classes; Kayla Gowdy-sales clerk; Julia Deutsch-BERNINA Repair Tech, sales clerk, and teaches classes; Tom Deutsch-BERNINA Repair Tech.
Coral, Roger and the River Bank employees take all the sanitizing precautions and require masks to be worn while customers shop. If you prefer not to do "in store" shopping, they are more than happy to be your personal shopper virtually. Customers may choose "Curb Side Pickup" or "Ship" their purchases or pick up "in person".
River Bank Fabrics & More's mission is to offer endless sewing and embroidery inspirational and creative ideas. To offer quality products to insure our customers have a successful beautiful project. Most importantly making every customer feel welcome no matter what their sewing skills; beginner, experienced or advanced.
Coral and Roger have two children, a daughter Kelly Myers who lives in Burlington, IA with her husband Troy and Coral and Roger's grandson, Blake, and they have a son, Brett Seitz who lives in Bettendorf, IA with his wife Jodi and three children, Madi, Maddox and Everlee.
---