The Hancock-Henderson Quill, Inc.
---
Business Spotlight
by: Donna Pindell, The Quill
Randall's Performance Inc.
1108 Randall Rd, Gladstone, IL 61437
Phone (309) 627-2500
http://www.randallsperf.com
randallsperf@hotmail.com or see us on Facebook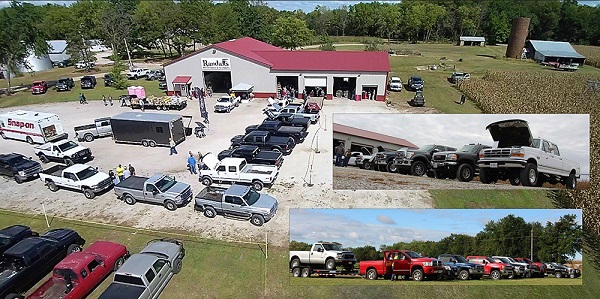 Randall's Performance Inc. is a light duty diesel pickup repair shop with a large line of truck and SUV accessories.
Randall's Performance was founded by Brian Randall in 2005. Born from the addiction of adding power to diesel trucks, the company started out as a small operation in Burlington, Iowa, under the Randall's Performance & Accessory nameplate.
After quickly becoming one of the premiere diesel performance shops in the southeastern Iowa, western Illinois area, the need to expand surfaced. Just a year after opening, Brian set up shop at the company's current location just southwest of Gladstone along US 34 west of Gladstone. In 2010, Corey Finch became part-owner and the company nameplate became simply Randall's Performance.
Today, Randall's Performance is an all-in-one shop that specializes in repairing, modifying, and accessorizing diesel pickups. The staff is made up of top-notch techs that get it right the first time and diesel enthusiasts that only recommend the parts that work. From the storefront in Gladstone to the webstore, they only sell parts that they've tested, trust, and run on their own trucks.
Randall's Performance employes Melissa McIntire as office manager; Trent Myers as parts and service manager and Zach Smith as a technician along with Brian and Corey.
The office is open from 8 a.m. to 5 p.m. Monday thru Friday. Appointments are needed for shop service. Randall's prides itself on being colorblind when it comes to the make of your truck. No matter what diesel you drive, they want to help you make more power and better enjoy your truck. People say you won't find a more honest group of people in the diesel industry.
Randall's Performance has over 14,500 products available and have a 92% return client rating and delivers their goods worldwide, and guarantee the highest quality of products they sell. They rely on a global network of shipping partners like UPS, FedEx, DHL as well as local post offices (USPS) to get your order to your doorstep as soon as possible.
Brian, Corey and the staff appreciate the community for their past, present, and future support and remind - "support all local businesses whenever possible rather than purchasing online".
Brian said, "Buying local has a direct positive impact to this community all of us call home." If you need some accessories, or work done on your diesel, go see Brian, Corey and the staff at Randall's Performance. They guarantee they do things the right way.
---