The Hancock-Henderson Quill, Inc.
---
Representative Cheri Bustos in the County
By Virginia Ross
Saturday afternoon at the Gladstone Community Building Representative Cheri Bustos was listening to the concerns of the citizens of Henderson County.
She focused on each person asking their name and inquiring about what was important to them. One by one she asked, "What is bothering you?" or "How may I help with your problem?"
If the reply was a specific topic, she addressed the issue be it a veteran struggling with the VA or someone having robo calls eight times a day from the same source.
She noted that she loves to come to Henderson County and meet the people. In fact, she does what she calls "Supermarket Saturday" where she goes to a grocery store (Fisher's in Stronghurst for example this time) and asks the same questions personally of everyone she meets.
She said that is the way to sum up issues and learn what is important to members of her Congressional District. Although, not at Gladstone but at other locations a question asked "Can't you Congress people work together?" is a frequent inquiry. She stated that she is always working across the aisle with members of the opposition.
She noted that Health Care always comes up for discussion and she stated that 10 pieces of legislation on this topic was passed by the House of Representatives and they are among the hundreds in a stack of the desk of Mitch McConnell, Senate Majority Leader, who refuses to put them on the agenda.
Other items in that stack include legislation on immigration reform. True reform cannot be accomplished if bills are stalled on the Majority Leader desk as both houses of Congress must pass legislation. When asked about why Southern States were receiving bigger payments in the Market Facilitation Program, she vowed to check this out.
Questioned about Prevent Plant program, she noted 90% of Whiteside County farmers had signed up.
Cheri assured those in attendance that House Speaker Pelosi is doing her job. On "Fly-in day" (the day Congress returns from vacation) Pelosi will be meeting with important committee heads discussing problems of the nation.
Since Bustos in on the most powerful committee in Congress, the Appropriations Committee, and on Appropriations sub-committees for defense, labor, health and human services, military and veteran affairs, etc., as well as on the House Agricultural Committee, she will have a one on one discussion with Pelosi about concerns of the 17th Congressional District.
On the 4th of July she joined other Congressional members (4 Republicans and 6 Democrats) on a trip to visit troops on Cutter Air Force base southwest of Doha, Qatar. She asked to eat with Illinois troops and was joined by 10 at the Illinois table from Galesburg, Freeport, Springfield and Chicago. Here again, she was asking "What are your concerns?"
Representative Bustos is one of your voices in Congress and wants to know how she may help.
Look on her website for e-mail address and office locations and phone numbers for Washington, Peoria, Rockford, and Rock Island. Your ideas and votes count.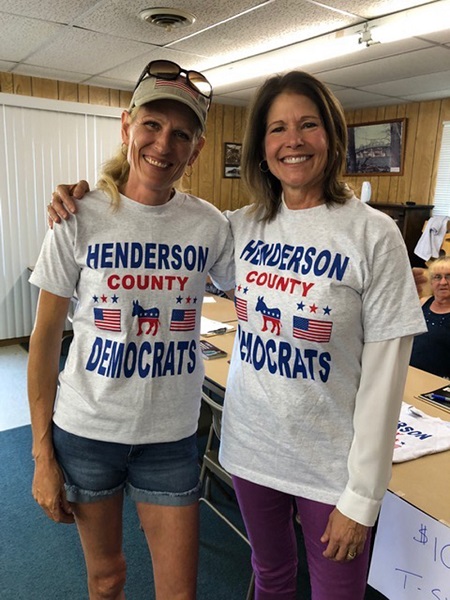 Patty Daniels, Henderson County Board Member, welcomes U.S. Congresswoman Cheri Bustos to Henderson County.
---