The Hancock-Henderson Quill, Inc.
---
Where Are They Now?
by Becky Smith, The Quill
Ted A. Anderson
The son of Marian (Allen) and Victor Anderson, Ted Anderson was born and raised in La Harpe with his sister Janet (Horne) of Lynn Haven Florida.
He is a 1969 graduate of La Harpe High School. He attended Southern Illinois University, Carbondale and graduated with an Associate Degree in Architecture Technology and Design.
He then worked in Springfield for Henson Robinson, drafting for a roofing, heating and air conditioning firm until he returned to La Harpe to become the third-generation in the La Harpe Clothing Company.
Ted married Susan Painter and they were later divorced but not before having their son, Stephen. Stephen graduated from Mount Olive College, Mount Olive, N.C. and currently resides in Wilson, N.C. with his wife Tracy and their son Ben.
Stephen has worked for Branch Banking & Trust (BB&T), one of the nation's largest financial holding companies, for over 21 years and is currently Executive Vice President of Operations overseeing Deposits and Payment Services.
Ted was very involved in La Harpe community once serving as the secretary-treasurer of the La Harpe Park District when the pool was built. He was a member of the Lions Club, The Golden Rule Club, a board member of the La Harpe Union Church, the Hancock County 911 board, and a member of the Twin Oaks Country Club.
But the organization most near and dear to his heart was the La Harpe Fire Protection District of which he was a member for 26 years, many years as a training officer and the Country Chief. Ted became very interested in the investigative process of suspicious fires and attended as many and all the classes available to him throughout the State.
During this time, Western Illinois University became one of the first universities to participate in the Open Learning for the Fire Service Program. Ted has the distinction of being the first volunteer firefighter in the nation to graduate through this program with a Bachelor's of Art Degree. It is quite an accomplishment to become the first of anything, but it was very humbling to Ted to become the first in the entire nation and one of his proudest moments!
The OLFSP staff in Washington DC also took great pride in this feat, bringing Ted and his father to St. Louis for a special presentation at a national meeting.
The fire department took him to his next major career change. In 1982, he was hired by the Illinois State Fire Marshal's Office, Division of Arson Investigation. This change affected all of the Anderson's lives, and the La Harpe Clothing Company closed its doors for the last time at Christmas, after 75 years in business in La Harpe.
Soon after being hired, the Fire Marshal's Office reclassified their Fire Investigator to Special Agent. Ted then completed an advanced police training program at the Illinois State Police Academy and became a sworn law enforcement officer and a Certified Arson Investigator (one of only 13 employed by the State of Illinois).
If you would've asked Ted what he would be later in life upon graduation, the last thing he would've answered would have been a police officer.
Ted spent the next 20 plus years investigating well over a thousand fires in over 50 counties, arresting and obtaining convictions of in excess of over 100 arsonists, murderers, burglars, and drug dealers. Investigations included more fatalities than he ever cares to remember!
His specialty became "human behavior" and his ability to interview suspects, witnesses, and victims. He was very fortunate to utilize this talent to elicit confessions and admissions from individuals regarding the crimes they had committed.
He assisted many police and sheriff departments, as well as various federal agencies, upon their request. He became the supervisor over the other agents in the central 40 counties of the state and at times oversaw all agents in the lower 80 counties. And, for 14 years he was the range officer for the Division.
Due to an injury sustained at a fire scene which required numerous surgeries, Ted was required to take medical leave. Not wishing to sit by idly, Ted returned to Western Illinois University entering the Law Enforcement and Justice Administration Master's program completing all necessary work with the exception of his thesis before returning to work as an Investigator.
While employed by the Fire Marshal's Office, Ted met his current wife, Judi, who was working as an administrative assistant and then program coordinator. After being coworkers and friends for 10 years, they finally began dating.
They were married in 1993 and Ted became the proud stepfather of Brittany (Wycoff) Slattery. Brittany graduated from La Harpe High School in 2003, and began attending the Savannah College of Art and Design (SCAD) that fall. She graduated from SCAD in 2007, and currently resides in Richmond Hill, GA, with her husband James and son Liam.
Brittany is a graphic designer for Thomas & Hutton Engineering firm in Savannah. Judi has worked for SCAD since 2004, starting as a technology trainer, then moving into the position of Director of Technology Operations, before retiring in May. 2014. She returned to SCAD in January 2015 as a Technology Consultant and works there to date.
In 2002 the State of Illinois offered its employees an early retirement program which Ted and six of the other Special Agents of the Division of Arson Investigation took advantage of the opportunity.
With this retirement, and in hopes to escape the cold, snow and ice, Ted and Judi made the decision to relocate to southern coastal Georgia. Ted had attended a class at the Federal Law Enforcement Training Center in Brunswick, Georgia in 1989, fell in love with the area, and hoped to teach at FLETC one day.
They were very fortunate in finding a beautiful piece of property on a deep, tidal river where they built their new home.
Judi and Ted invited Ted's parents, Marian and Victor to reside with them, and designed the home specifically to accommodate them. They were all blessed to share their home until the passing of Marian in 2012 and Victor in 2013.
Ted began working for the Department of Homeland Security, Transportation Security Administration in January 2004. Ted quickly moved up positions, working for the next nine plus years for TSA. Such positions included being a Transportation Security Instructor responsible for training all new screeners and new procedures for current screeners), promoted to a Lead Screener, then a Supervisor overseeing screening activities at the Brunswick Airport.
From there he was promoted to the position of Transportation Security Inspector responsible for inspecting airports and airlines in Georgia, with the exception of Atlanta. He took an early retirement from the Department of Homeland Security, as he was not yet 62, to pursue his current employment opportunity.
In 2012 Ted became a contract instructor for the US Department of State, Anti-Terrorism Assistance Program (ATA) responsible for training law enforcement personnel from friendly governments, worldwide, in police procedures that deal with terrorism.
Since then he has traveled to Niger, to Nigeria, and to South Africa to instruct the Forensic Examination of Terrorist Crime Scenes (FETCS) course providing operational level law enforcement personnel responsible for recovering crime scene evidence with the skills and techniques required to document, recover, and prepare evidence for prosecution using procedures that meet accepted forensics standards.
This afforded him many great opportunities traveling overseas to experience places he would otherwise never have seen. While working with the US embassies additional sightseeing trips were offered while in Niger and South Africa.
In South Africa he had the opportunity to go on an actual Safari, which was a lifetime experience in itself. He will be traveling to Bhopal, India in September to instruct a Behavioral Observation Skills course.
Ted continues to have so many great and fond memories of La Harpe. His friends, neighbors, and past customers are often in his thoughts.
He is looking forward to attending his 50 year class reunion in August where he will reunite with classmates he has not seen for 25 years or longer.
He looks forward to receiving the weekly Quill, while many names are unfamiliar; he has really enjoyed reading the many "Where Are They Now" articles that Becky has published, where most of these names are familiar.
There are so many people who played an important role in Ted's life it is impossible to name each of them individually. A few who stand out for their own individual reasons include Dean Beals and Dutch Patterson, who were teachers and role models as Ted grew through the La Harpe Volunteer Fire Department. Mike Mealey, neighbor, golfing partner, and friend. Bruce Goettsche, friend and minister (as well as the Union Church). Jan and Marta Logan, coach, teacher, neighbor, and friends. And so many others!
The four people playing the most important role in Ted's life were his parents Marian and Vic Anderson, his wife Judi, and Stephen, his son and best friend, who he enjoyed golfing with over the years and who he is so proud of for his wonderful accomplishments.
With the exception of three years of college and a short time in Springfield, Ted resided in La Harpe for the first 52 years of his life and will always have a special place in his heart for all the memories it provided.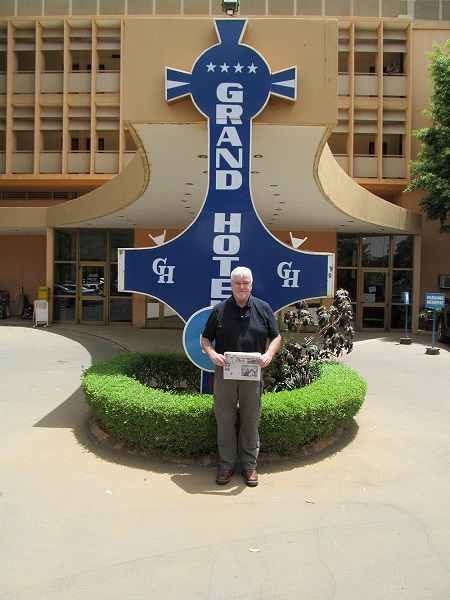 Ted in front of the Grand Hotel in Niamey, Niger while there instructing for the US Department of State, Anti-Terrorism Assistance Program
---