The Hancock-Henderson Quill, Inc.
---
Troute's Former Students Love To Share- "Remember When" moments from school
by Joy Swearingen, Quill Correspondent
Gloria Troute loves Dallas City, and people in Dallas City love her. That's why she was chosen to be this year's grand marshal for the Dallas City Celebration parade July 27.
For nearly 35 years, Troute taught fourth grade children in Lomax and Dallas City.
"I love the kids," Troute said about her time teaching. "I taught them, but they taught me so much more. They just wanted to be loved and I loved every one of them."
In some cases, Troute taught two and even three generations of a family. She still gets hugs and memories from former students wherever she goes.
"They'll come up and say, "Oh, Mrs. Troute, remember when:.' They talk about things from the classroom, like when we did autobiographies or made ice cream or I helped them with jump rope," she said.
If she doesn't recognize an adult as a former student she says; "Tell me your name, and I can tell you a story."
Troute loved school and was a good student, but never dreamed she could be a teacher after she graduated from Carthage High School in 1951.
"We were poor. I could not go to college. I got a job at an office."
She worked at Carthage College, first with a dean and then with President Kentz. During that time she took night classes and summer school. Shortly before the college moved to Kenosha, Wis., in the early 1960s, Troute learned that her 60 credit hours plus passing a state test would let her begin teaching. She taught fourth grade in Lomax.
"It was a God thing," she said.
While teaching she continued to take night classes at Iowa Wesleyan College in Mt. Pleasant, Iowa, to earn a bachelor's degree. She earned a masters degree from Western Illinois University with more night and summer classes.
Troute's love of her students extends to the whole community.
"I love Dallas City. I wouldn't want to live anywhere else. I have my church, the school, my neighbors, all the wonderful people surrounding me," said Troute. Her neighbors help her with her yard, her car, and anything she needs for her home.
She has served her church as a deaconess for many years.
"Nothing is possible without my walk with the Savior. You have someone to rely on."
When she retired from teaching, Troute took up bridge to keep busy, and became a life master bridge player. She also loves collecting, something she has done since childhood. In grade school, she began writing to movie stars asking for photos. She has a large scrapbook with over 83 pictures of movie stars including Bing Crosby, Gene Autry, Judy Garland, Mickey Rooney and Audrey Hepburn.
She has collections of glassware, angels and family heirlooms. Outside her home, she tends flowers of all kinds.
Being chosen parade marshal was a shock.
"I can't imagine why. I have not done anything grandiose. I guess it means I was special in their lives. It just shows if you are kind to people, they know you love them."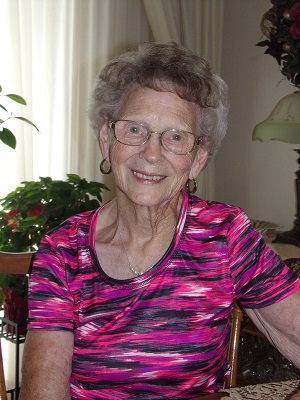 This year's grand marshal of the Dallas City "Remember When " parade is Gloria Trout. The parade begins at 10:00 a.m at East 4th Street.
---