The Hancock-Henderson Quill, Inc.
---
Smithshire's 3rd Annual Car Show grows to 75 entries and Salutes Vets, thanks to Dylan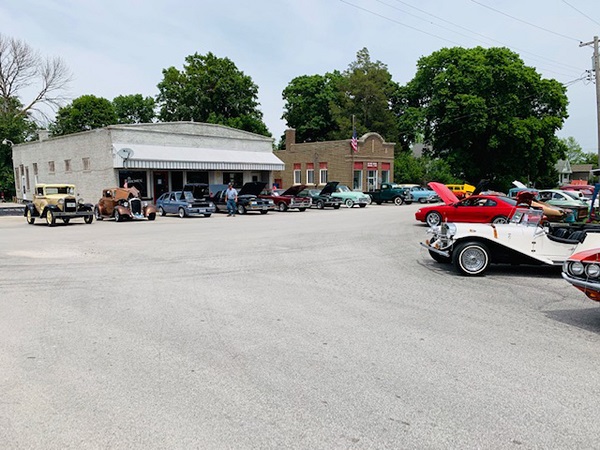 Dylan Gibbs, 17, of Smithshire, put on his 3rd Annual Smithshire Car Show and Volunteer Firemen's Cookout this past Sunday around the Smithshire Village Park with 75 entries. The event honored veterans with funds going toward the FOCC's pack-back program for students at West Central and the WOUNDED WARRIORS organization.
Concession funds with pork chops, brats, and hot dogs, chips, and lemonade and tea were provided by Smithshire volunteer firemen.
Dylan is doing the annual shows in memory of three men who have influenced his life greatly: All three served in the United States Army: Ray Shafer of Biggsville was his scout master when Dylan was a Freshman at West Central. "I loved hearing his stories about his service and World War II."
The other two veterans were his grandfathers, Bill Smith and Vic Lybarger who have both passed, Vic to suicide, he said.
"These men and other veterans served us well, but have gone through so much protecting our freedoms", Dylan said, "and I wanted to do something to help with suicide prevention and thought Wounded Warriors would help. I also wanted to salute all veterans, whether they registered for the show or came to attend the event."
For Dylan, car shows are a natural as he's been taken to shows ever since he can remember. His dad Shawn and mother Dawn both show cars. Shawn shows his 1985 black Camaro and Dawn, a 1969 Volkswagon Beetle.
Besides Smithshire and Monmouth, they've attended La Harpe, Macomb and Nauvoo to name a few.
"I grew up attending the Prime Beef Festival every September and was on the grill cooking pork chops in the concession stand since age 8 or 10," he said, which has inspired him to want to become a chef. His grandmother Pamela Lybarger of Kirkwood is President of the "Balcony Watchers" Car Club that organizes the car show around the Monmouth Park during the Prime Beef Festivals.
The Balcony Watchers are his second family, he said. His grandmother came up with the name when she was sitting on a balcony in Nauvoo at the car show during their annual Grape Festival and the announcer of the show yelled up, "Hey Balcony Watchers, Pamela, you won!"
"It's always a lot of fun in Nauvoo," Dylan said. You look forward to meeting some of the same people.
Dylan also wants to vamp up his 1994 Chevy truck, changing the paint from black to a bright show quality grape soda/metallic purple. But Dylan had been busy obtaining sponsors, inviting clubs, preparing for the show with clubs coming from as far as Missouri.
A very caring and busy teenager, Dylan also is an honor student and member of the Honor Society at West Central. He maintains the Smithshire City Park in the summer and it was in top shape for the show. He is learning the guitar, and he plays the drums in a band whose getting ready for their first NAP recording session.
The show began at 10 a.m. and he surprised the audience by singing the National Anthem. There were drawings and give-aways and Dylan handed out plaques at 3:00 p.m.
Dylan said, that having a car show in Smithshire brings "people to a very nice town that many people don't even know is here."
Smithshire is at the edge of Warren County and in West Central School District, but outside of Henderson County.
"It's a great community and a good place to live," Dylan said. "I just want to say thanks to all who served."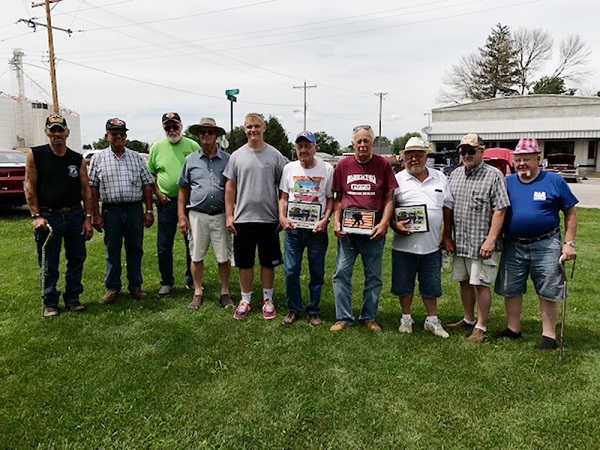 Dylan Gibbs stands in the center of several veterans honored on Sunday
---