The Hancock-Henderson Quill, Inc.
---
JBR Foundation Established for Suicide Prevention
FIRST EVENT: GOLF OUTING-SUNDAY, SEPTEMBER 8
The JBR Foundation is a 501(c)(3) non-profit organization. It has been established by Jennifer Robbins Starr and Chad Robbins, in memory of their brother, Jamie Bryant Robbins.
Jamie died by suicide on April 3, 2018 at the age of 39 after a long battle with an addiction to alcohol and depression.
Jamie's family chose immediately to address the role that alcoholism and mental illness played in his suicide.
Jennifer states that there was audible gasp in the room the morning of his funeral as those words were spoken. She understands that the family's willingness to address it in that moment was shocking.
However, even then, in their darkest hour they immediately recognized the need to tell his story with truth and to open it up for discussion in hopes to help others. Pretending that none of it existed in Jamie's life would only continue to fuel the stigma that surrounds addiction and mental illness. That stigma, they believe, is in turn fueling the suicide epidemic in our country.
According to the American Foundation for Suicide Prevention suicide is the 10th leading cause of death in the United States taking the lives of over 47,000 Americans every year. On average, 129 Americans choose to die by suicide every day.
In addition, for every successful suicide, 25 more attempt. Even so, only half of Americans experiencing an episode of major depression receive treatment.
Those with substance abuse disorders are six times more likely to choose suicide than those without. Like Jennifer's family, an estimated quarter million Americans become suicide survivors each year.
The JBR Foundation has two core goals: Education and Outreach. The JBRF is dedicated to help fight the suicide epidemic growing in our country and to do their part to remove the stigma that surrounds addiction and mental health by providing funding and educational programs to schools and other young organizations in and around Southeast Iowa and West Central Illinois to educate our youth on these sensitive yet urgent topics. In addition, their outreach programs are of utmost importance to them.
Jennifer describes Jamie as the most loving and social person. She says that he loved people. His passion for people and his ability to connect with others was simply unparalleled.
The JBRF is committed to honoring his love for all people by creating outreach programs that will connect them with others that have lost their loved ones to suicide.
Their first outreach program, Project Thumbies, was inspired by the three beautiful children he left behind.
September is Suicide Prevention Month. The JBR Foundation is a 501(c)(3) organization and their fundraising is truly done by grassroots efforts.
The foundation will kick off Suicide Prevention Week (September 8th through September 14th) on Sunday, September 8th at their first large fundraising event, The JBR Foundation Golf Outing. The outing will be held at Sheaffer Memorial Golf Course in Ft Madison, IA.
Jennifer says Jamie's greatest passion in life was golf so there is no better way to honor his memory and to celebrate his life than to play a round of golf on one of his favorite courses.
The JBRF is still looking for golfers to attend the event. The event is limited to 36 teams (4 players per team), so don't wait to register!
Please visit www.jbr-foundation.org to learn more about the event or email Jennifer at jen@jbr-foundation.org.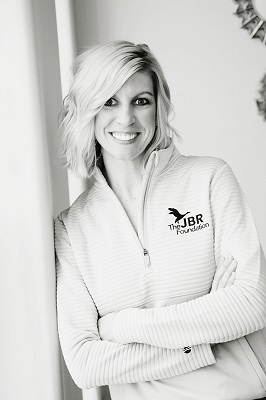 Jennifer (Robbins) Starr
---