The Hancock-Henderson Quill, Inc.
---
Family Dedicates Park Bench On 65th Anniversary First Date Was At The County Fair
by Dessa Rodeffer -Quill owner/publisher
It's all pretty nostalgic, remembering back when the county 4-H fair was the place to be with your high school friends, and where so many couples had their first date. Probably you might remember being with that special someone on top of the ferris wheel where there really is only room for two to fit comfortably and where you can see all over the fairgrounds as you neared the top.
For one special couple, the late Lowell and Jane Mohr of Terre Haute, the fair was an every year thing. In fact, their daughter Annetta (Mohr) Ziegler said it all began sixty-five years ago when a young man spotted a pretty girl in muddy red heels at the county fair one night.
According to Annetta, her dad told her, "He couldn't stop thinking about her so he asked her go go with him to the last night of the Henderson County fair."
Well, that date led to another and then another until they said "I do!" on April 10, 1955.
Then every year for sixty-two years, these Henderson County Fair sweethearts attended the fair together, always with laughter and smiles and a good time visiting with family and with friends they made along the way.
So the family, missing them immensely, especially at fair time, felt dedicating a park bench in their memory for other couples and fair attenders to enjoy was the perfect thing to do on what of been their 65th year of dating!
Maybe another young couple will sit there on their first date at the fair, and start a legacy as the Mohrs have. Wouldn't it be neat to expand on the idea and call it the "First Date" and "Anniversary" bench and expand on the Mohr's idea as a good place for picture taking of these special events.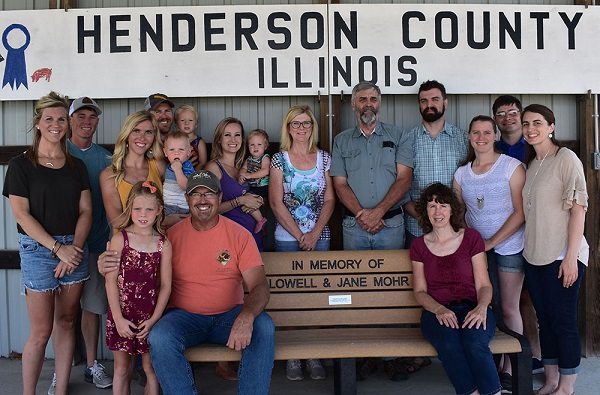 Mohr Family Dedicates Park Bench: Remembering that it all began at the Henderson County 4-H Fair 65 years ago are the family of Lowell and Jane Mohr of rural Terre Haute. Pictured from back left: Morgan Parker, Mat, Tiffany and Cohen Kissinger, Justin, Sawyer, Amanda, and Sage Mohr, Joan Mohr, Rowen and Ben Ziegler, Sarah and Avery Le'Jeune, and Anna Ziegler.
Front row from left is Brinley Kissinger, James Mohr and Annetta Ziegler.
---