The Hancock-Henderson Quill, Inc.
---
Stronghurst New Endeavors, Good For Our Communities
Dessa Rodeffer, Quill Publisher/Owner
July 25, 2018
There's a lot of progress going on in my hometown the last few years.
From improvements at the Stronghurst park with playground equipment, trees and landscaping, a portable bathroom, improvements to the military canon and of late, the Dr. Pogue Memorial and Spray Park to flags down Main Street, flower pots, and our new water tower in red, white, and blue, our town is looking very patriotic and beautiful.
The water tower is between the Bank of Stronghurst and the old CE Neff Buick/John Deere building now owned by Brad and Rhonda Flatt.
The city is also addressing the pleas of their board member David Vancil by fixing pot holes in the street and cleaning out the ditches for better water drainage.
The Annie Jane Fort Nursing & Rehab facility that was built with lots of local volunteers and donations, became its own entity, and expanded into an Assisted Living and now a Supportive Living facility that accepts Medicaid for those who qualify.
It offers various services to assist residents with activities of daily living such as medications, washing clothes, snacks, personal care, meals, housekeeping, transportation, etc.
According to Bobbi Tapscott, Director, at Oak Wood, a new wing is scheduled to be finished by November and then time will be needed for the inspection process and approval by Health Care and Family Services out of Springfield whose inspectors coming from Galesburg.
The wing is named the Ralph and Darlene Tatge wing for Ralph's dedication and volunteerism at the facility. Ralph has put in countless hours and is on the Board of Directors.
According to its blueprints, there will be ten rooms or double rooms (6 doubles with separate entrance and separate bedroom and 4 that are large single rooms).
Each has their own bath and microwave and sink and eating area.
The facility will have an outside porch with overhead roof that will have screens that electronically lower to keep bugs from bothering residents.
Mostly they are looking forward to the game room that is being added at the beginning of this wing, Tapscott said.
At present there are two openings at Oak Wood, but the twenty on the waiting list are anxiously waiting for the new facility to open.
Tapscott has written and received grants to help out at the facility including a major grant for building the new wing from the Community Health Foundation set up to assist health care in Warren and Henderson Co. from funds acquired from the sale of the Monmouth Hospital.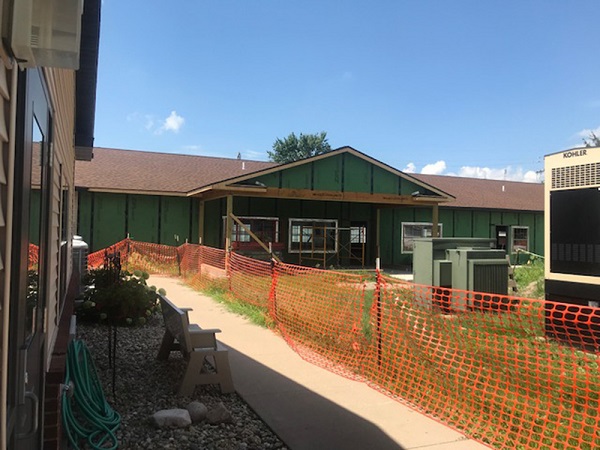 A game room and a porch that will have electronic screens that can be lowered is being built in a new wing at Oak Wood Estates, Stronghurst.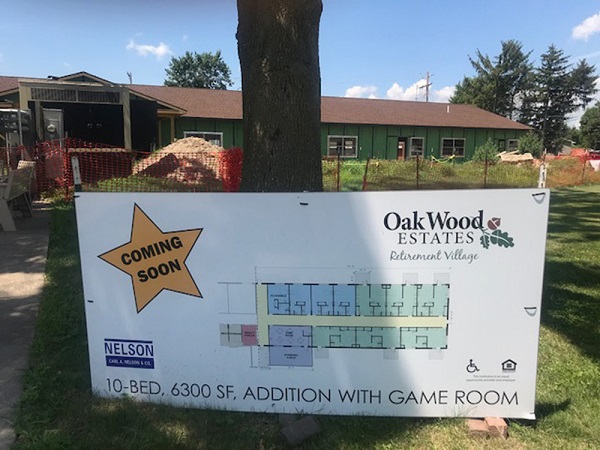 Blueprints for the new wing at Oak Wood Estates in Stronghurst sets outside the circle drive for all to view..
---