The Hancock-Henderson Quill, Inc.
---
Plug Your Ears!!!
Dessa Rodeffer, Quill Publisher/Owner
No, it isn't the NFL Super Bowl
This city girl actually got talked into attending something I didn't know even existed, and it is in its 20th year! It was the Mississippi Valley Calling Classic held at the Pzazz Conference Center in Burlington Iowa on Saturday and Sunday.
From the look at the packed crowd, I was the only one in town who didn't know about this duck, goose, geese calling contest. I always wondered who was buying the Robertsons of Duck Dynasty's duck calls. It's a huge industry.
There was some talented people at the show who make duck calls, but who are not inclined to do a Duck Dynasty sequel. One such stand, attracted me with some real beauties-goose and duck calls ranging from $50 to $125.
In my usual inquisitive manner, I soon found out that the owner of this company was standing before me, Barnie Calef. Barnie is the founder of the Mississippi Duck Calling Classic, and he is also a three times World Champion duck caller who started making duck calls in his home town of Cedar Rapids, Iowa. His calls are manufactured under "Calef Calls" at www.calefcallsnet.
Calef is all business and can give you some serious talk, but he brightens up a camouflage jacket when he smiles and then you see the mischief in his eyes.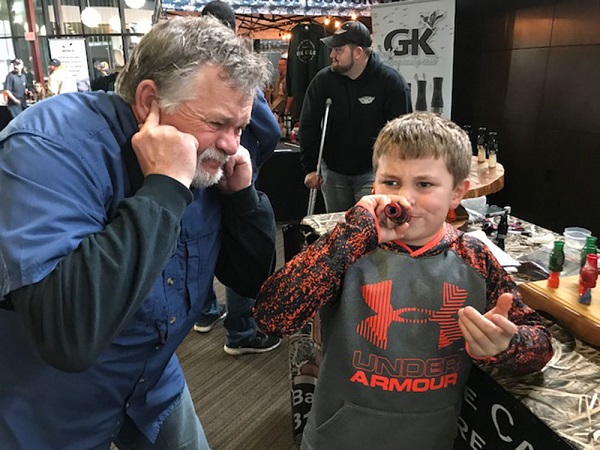 Barnie Calef plugs his ears as Caleb Kinneer, 10, of Kirkwood practices a duck call after his purchase from Barnie.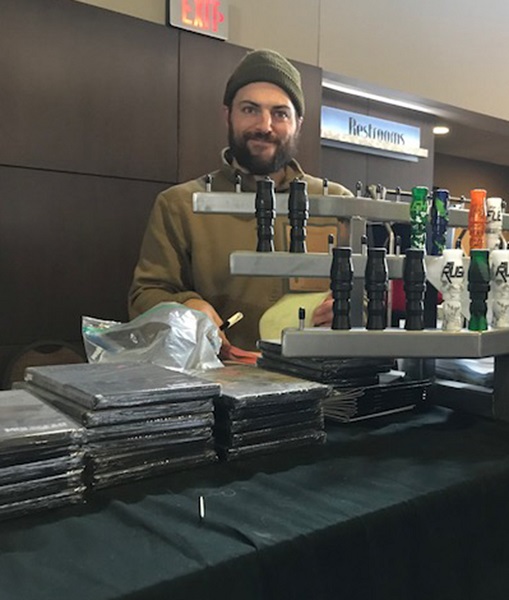 Also popular at the Callers Classic was Scott Threinen, owner of Molt Gear in Rochester, MN. Scott, a 3-time World Goose Calling Champion, loves this number one sport in his state of Minnesota. He tells in his hand-out, how ten years ago on a hunt: "the field was covered with geese, and not one sound had been made. Finally, as one of the last groups set in, what seemed like the biggest and most dominant birds let out a series of rapid fire, nasty, bad-to-the-bone honks that made the hair on the back of your neck stand up. It was that series, that sound, hours later in the cold, that reassured exactly why I love the sport of waterfowl hunting so much:it is the sound."
Scott still loves the sound. He's been on TV, is owner of Molt Gear with his hand made calls, on Facebook, youTube, Instagram, etc. Gives seminars, hunts, calling tips. His MG Society staff has 120 members from all across the U.S..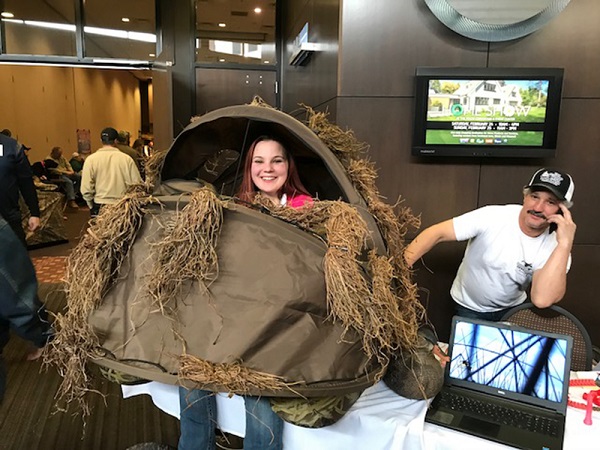 Curstin Rutledge, formerly of Niota but now of the state of Washington, returned to show her boss's great hunting and fishing hut, made to float around in the water. It's fun to duck hunt with the top up, or fish with it down, sit/float, she said, with Waders, of course. See at www.muskrathut.com.
---