The Hancock-Henderson Quill, Inc.
---
Veteran Was There
By Virginia Ross, for The Quill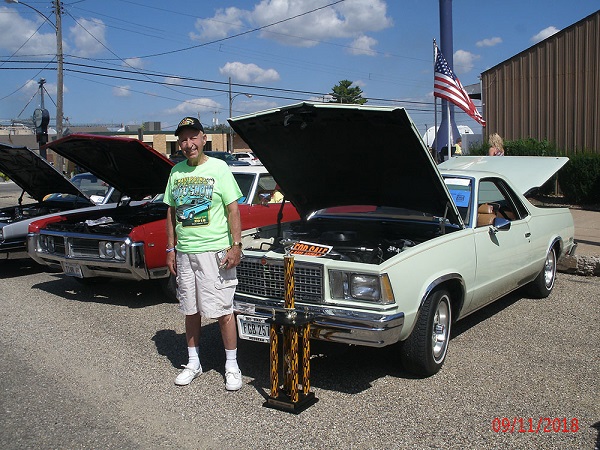 Once in awhile in life you are afforded a privilege as I was at the Stronghurst Fall Festival Car Show when I interviewed Al (Alban) Nelson Jr., a 92 year old veteran of World War II, the Korean War and Vietnam. He was a career United States Marine who put his life on the line in all three of these major conflicts.
Born in West Burlington, Iowa in 1925 the son of a baker, Al's family consisted of a brother and sister too. Growing up he delivered the Hawkeye Gazette to households in West Burlington, IA; in fact, he said he knew most everybody in town. He attended West Burlington School but graduated from Burlington High School as West Burlington did not offer secondary education.
On Sunday, Dec. 7, 1941 he was on his way home from Sunday School when he heard the news of the attack on Pearl Harbor. The nation was in turmoil and young men felt obligated to sign up with a service, He and a friend at age 17 decided they liked airplanes so would join the Army Air Corps (later became the Air Force) so they hitchhiked to Ottumwa, IA. However, when they went to the recruiting office, the recruiter wasn't there for the day and the Marine one was. They became Marines.
Boot camp was at San Diego, California for eight weeks and then he was shipped out to Hawaii for one year of training with tanks. Little did he envision what lay ahead. Iwo Jima!
The Battle of Iwo Jima (Feb. 19-March 26, 1945), a major battle in which the United States Marine Corps landed on and eventually captured this eight mile long and 4 mile wide island from the Imperial Japanese Army; it was the scene one of fiercest battles during World War II. Al Nelson and his fellow 4th and 5th Marine Amphibious Corps aboard tanks on LST's were part of the landing wave.
The Navy had intensively bombarded the island and U.S. Navy and Marine planes provided air supremacy throughout the battle. However, command did not realize that 15 ft. of soft volcanic ash awaited the invasion which meant that a secure footing or construction of fox holes was not possible. Believing that the Japanese force had been reduced, the Americans were allowed to pile up men and machinery on the beach only one hour later to face machine guns, mortars and heavy artillery.
Soon Al and his fellow tanks landed under heavy fire. They quickly made a half turn toward Mount Suribachi firing to support the troops. The battle commenced. Kids, just kids, saw sights that they had never seen before and would haunt them the rest of their lives. On the third day Al was sitting at the bottom of Mt. Suribachi when Joe Rosenthal snapped the iconic picture when six Marines from E company, 2nd Battalion, 28th Marines raised the U.S. flag on top of the mountain. The battle was far from over.
The Japanese were heavily fortified with a dense network of 11 miles bunkers and hidden artillery positions. Despite bloody fighting and severe casualties on both sides, the American victory was assured from the start. However, the Marines suffered 7,000 deaths with 25,851 casualties.
Japanese deaths were three times the number of American deaths-21,000 with only 216 taken prisoner. For years as many of 3,000 continued to resist within the cave systems eventually surrendering. When the Marines pulled out, the island was left in charge of the Army.
Al's service was not over. Suffering from injuries, his outfit returned to Hawaii to regroup. After the Japanese surrender, Al was sent to Japan for 2 years where he re-enlisted. When asked if he visited Nagasaki and Hiroshima, he commented, "Yes, it was pretty torn up; it was bad."
1946 found him aboard a ship for 45 days bound for the good old USA going through the Panama Canal on to Camp LaJune, North Carolina. From 1946-1948 he was stationed at Camp LaJune for 3-4 years where he re-enlisted again. In 1949 he married Jaclyn Westfall. (They had four children-Tim, Cindy, Rex and Cheryl).
In 1950 he went to California for training and then on to Korean War where he was shot in the knee and awarded a Purple Heart. Returning stateside after the war, one of his buddies, Hugh O'Brien, said he was heading to Hollywood to become an actor and said Al should come too. However, being a professional Marine and having a family was what Al wanted to do; beside, he didn't like horses, horse sweat and horse xxxx. The two kept in touch and anytime Al found himself on the West coast, he would visit O'Brien on his ranch.
Vietnam found Al patrolling the river on an amphibious vehicle. When asked what was his worst day in combat, he said having to shoot several Vietnamese; it was kill or be killed.
In 1968 Al retired and reinvented himself working for the Burlington Northern as a machine operator for 14 years.
Being exposed to Agent Orange, he developed diabetes. He stressed that the VA gave good care to Vietnam veterans. Retiring again, Al took up new hobbies-vintage cars and playing golf. He is the proud owner of a 1979 El Camino, 1993 a Cadillac convertible, and a 2017 Cadillac XTS, which he showed at the Stronghurst Fall Festival.
Last year U. S. Senator Joni Ernest honored Al with an American flag which had flown over the Capitol and a US Senate medallion in a ceremony at Memorial Auditorium in Burlington, Iowa as he is believed to be the last Iowa veteran alive to serve in all three wars. Nelson presented her with a box of sand from the beach at Iwo Jima which he had obtained when visiting the island in 2008 during the World War II battle's 63rd anniversary.
Al shares his life story willingly and has visited schools, clubs, etc.
His second wife of 22 years, Wanda Pope died and he now enjoys the company of his special friend Jean Salisbury.
Sources: Wikipedia, "Battle of Imo Jima."
Elizabeth Meyer, "Veteran of Three Wars Honored,"
The Hawk Eye, Nov.11, 2017.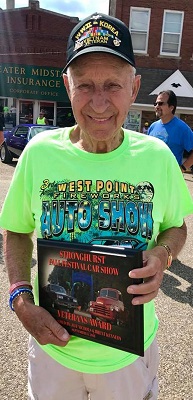 AL NELSON, JR., 92, of Burlington, IA, was awarded the "Veteran's Award" last Saturday during the Stronghurst Fall Festival annual car show.
Nelson served the U.S. Marines during WW II, Korean and Vietnam wars.
---