The Hancock-Henderson Quill, Inc.
---
Fire Department Pleased With First Golf Event
The Raritan Fire Department was more than pleased with their first golf event and benefit with the proceeds all designated for the "Joe's Kids Education Fund".
$5,000 was presented to their mother Cindy Kane this month by Assistant Fire Chief Earl Waller.
The fundraiser was held on August 25th at the Twin Oaks Golf Course in Blandinsville.
"We were very surprised and satisfied, and excited of the showing for our first event," said Earl Waller who chaired the event.
"We had golfers come from Chicago, Des Moines, IA, three from Danville, IL, four from St. Louis, MO and several fire departments bringing teams to support the event. It was pretty overwhelming as we were at capacity."
Waller said they had 112 golfers and 28 teams and used every golf cart and even borrowed a few. The event was a 4-person best ball tournament with $60 ($240 per team) entry fees which included carts, golf and food.
The Kane family was also overwhelmed with the support of the Raritan Fire Department and the generosity of all who took part.
The family thanked the members of the department with a meal prior to their monthly meeting Sept. 6th.
Cindy and the late Joe Kane have 4 children, two in the military (Ashleigh and William) and two in school at home (Luci and Jack).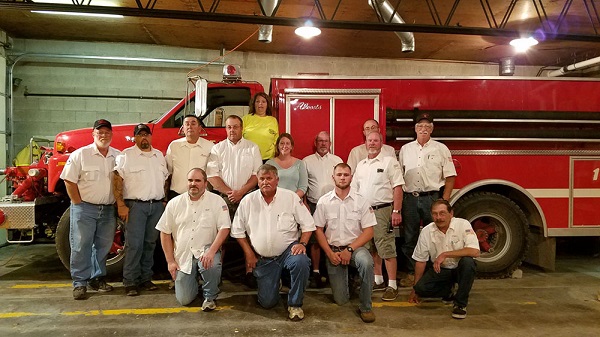 Raritan Firemen who were present are pictured from left: Back row- Harry Underwood, Dan Farris, Monte Klossing, Lee Moore, Amy Farris, Krystle Dawn, Donnie Gipe, Ronnie Gipe, Kevin Magee (hidden in back), and Dan Kane. Front Row - Bill Waller, Earl Waller, Landon Bowman and Dwayne "Fibber" Magee.
---