The Hancock-Henderson Quill, Inc.
---
Where Are They Now?
by Becky Smith, The Quill
Remember the Stevens girls:Lesley and Kristin, the daughters of Todd and Carol Stevens of La Harpe. Lesley is a 1991 La Harpe High School graduate and Kristin is a 1994 LHS graduate.
Lesley (Stevens) McCain graduated with a BSN of Nursing from Indiana University, but now lives in Arlington, Texas. She is currently a fitness instructor but plans to get back into nursing.
She loves fitness and the nutrition aspect of health as well. She teaches fitness classes such as Strength and Core (dumbbells and core work) and Zumba/Insanity. Lesley says "I really enjoy inspiring others to reach their full fitness and health goals."
Lesley is married to Bruce McCain whom she met in college in 1992. Bruce has worked at General Motors for 19 years. His factory manufactures the Chevy, GMC, and Cadillac SUV's. Lesley says "if anyone drives one, my husband helped make it. Lol."
They are the parents of five children and four grandchildren. Jessamy is 23 years old and has two daughters, Kayden (3) and Maliyah (1). Bruce is 22 years old and has two sons, Blaze (3), and Benji (1). Jaden is 18, Jaryn is 16, and Jamisen is 15 years old.
Lesley is an avid Chicago Cubs and Bears fan. She says "I still think I know how to play basketball. I still love music:.many genres. Music makes life better. I've had an obsession with Sly Stallone since the Rocky Balboa days:so much that I used to think drinking raw eggs would make me tough like him."
"I attend Crossroads Christian Church. My favorite day of the week is Sunday where we have our weekly family get together. More than anything, I love playing with my grandkids. I love coming home to visit. La Harpe will always be my home."
When asked about a most influential person, Lesley says "my entire family (Mom and Dad):but especially my Grandma Barbara Corzatt. She has had such a positive influence on all those who know her. I strive to be more like her. Her love for family speaks volumes. She is perfection."
"I thank my parents for teaching me unconditional love through life's ups and downs. I appreciate their hard work for providing for Kristin and me to have everything we needed."
Kristin (Stevens) Lolling is a 1995 graduate from Southeastern Community College with a Medical Assistant Degree. For the past 14 years, she has been a Certified Medical Assistant at Cleveland Dermatology , in Burlington, Iowa. She performs laser treatments, microdermabrasions, chemical peels, and cool sculpting. She also assists the doctors or physician assistant in the exam rooms and other clinical work. She says "I love my job. I love working with people and getting to know them. I have learned so much from Cleveland Dermatology and it such a rewarding experience to help take care of patients."
She has had previous work experience with Unity Point Clinic in Muscatine, IA, Burlington Area Family Practice, and Spring Park Oral Surgery as a registered dental assistant.
Kristin is married to Chad Lolling for almost 19 years. Chad is a manufacturing engineer at HNI Corporation in Muscatine, IA. Chad also coaches junior high girl's basketball and ASA girls' softball. They have three children. Aubrey is 22. She is a RN at Cleveland Dermatology. Addisyn is 18, a freshman at Kirkwood Community College, and Aliyah will be 15 in September and is a sophomore in High School.
Kristin's hobbies include attending kids sporting events and activities, spending time with family, and watching movies. She says "Our girls have always been very active with sports so I have not had a lot of free time. Most of my time is going to ballgames. I don't know what I will do when they will all be out of the house."
When asked about a most influential person, Kristin says "it's very hard for me to pick just one person because I have several. One, being my Grandma Barbara Corzatt. She has always been such a hardworking, humble, and supportive person. She has always gone out of her way to make sure everyone has what they need. She is a strong woman of faith and has always been there for our family. I hope to be like her someday."
"The other would be my parents, Todd and Carol Stevens. They taught me how to be independent and how to set goals. They have taught me values to live by, they have supported me and they encouraged me to pursue my dreams while challenging myself to be the best I can be. I wouldn't be the person I am today without their love and guidance."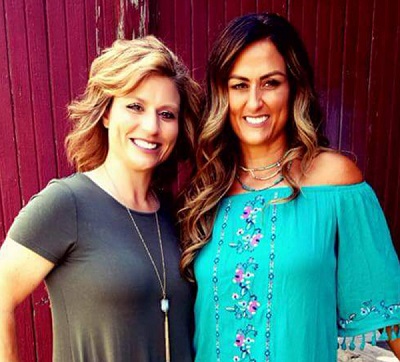 Kristin & Lesley Stevens, now Kristin Lolling and Lesley McCain.
---