The Hancock-Henderson Quill, Inc.
---
La Harpe Memorial Day Service Remembers Fallen
La Harpe's annual Memorial Day service was held Monday, May 28 at 10:00 a.m. in the city's park.
Despite the warm muggy weather, a large crowd attended the following program:
Welcome-American Legion Auxiliary by Sec. Chris Little
Presentation of Colors- by the American Legion Post #301
Star-Spangled Banner- by Francis Scott Key-Arr.-Audience Sing
Opening Prayer- by Lee Unger, Methodist Minister, La Harpe, Durham, Terre Haute
Pledge of Allegiance led by La Harpe Boy Scouts
Memorial Day Poem read by American Legion Auxiliary President Joan Siegworth
Special Music - 4th Grade Ensemble "We Remember" by Steven Curtis Chapman; Stephanie Mencel director
Remarks by Mayor Katherine Hasten-Reed
Speaker- Gary Jackson - Iraq Veteran
Recognition of all Veterans- by Darrell Kraft
Recognition of Gold Star & Blue Star Mothers- by Harry Fark, Post #301 Commander
Special Music- Gordon Blankenship, La Moine Camp Manager
Land of Liberty Concert March - La Harpe Jr. High Concert Band, Arr. by James Swearingen, with Stephanie Mencil, Director
Closing Prayer - Rick Goettsche, Assoc. Minister, Union Church
Retiring of Colors - American Legion Post #301
Twenty-One Gun Salute - American Legion Post #301
Taps - American Legion Post #301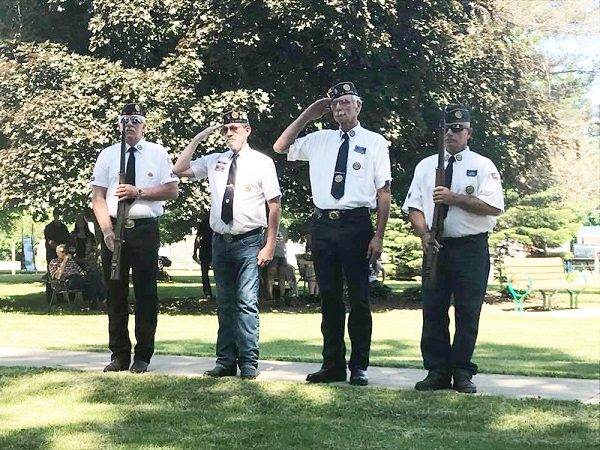 La Harpe American Legion Post #301 salute during the annual Memorial Day service in the La Harpe City Park Monday morning. From left is Lindsey, John Lee, Dan Gillett and Roger Johnson.
---