The Hancock-Henderson Quill, Inc.
---
Where Are They Now
By: Becky Smith, The Quill
Sally Jo (Torrance) Hamlin graduated from La Harpe High School in 1979. She earned a B.S. degree from Illinois State University and M.A. from the University of Illinois.
After college Sally was married and moved to various locations in the US including Savanah, GA, Farmville/Appomattox, VA, Milwaukee WI, Davenport, IA, Paris, IL, and Cincinnati, OH.
Sally is currently an Epic Sr. Application Analyst at Rush University Medical Center in Chicago. She is Epic Resolute Hospital Billing, Charge Router, and research certified. Sally is an analyst/builder of the EMR (Electronic Medical Records) at Rush. She works with staff and clinicians to develop, build, and maintain the electronic (computerized) records for billing, coding and research.
She started in the medical field as a educator/trainer at Cincinnati Children's Medical Center and was on the team, at Cincinnati Children's Medical Center, that developed the Fellowship Core Curriculum (First completely Online E Learning curriculum for residents and fellows).
Prior to moving to Cincinnati, Sally was with the University of Illinois Extension as an Educator in Youth Development. She moved to south side Virginia to work in an Art Museum to do extension outreach education (Curator of Education) for Longwood Center for the Visual Arts in Farmville, VA. She has continued to teach adjunct courses at college level throughout her career.
Sally's interests include yoga, walks, the beach, reading, antiquing, and she still paints (art). She lives about 3 blocks from Wrigley (Go Cubbies!!!)
She loves living on the lake in Chicago, with so many things to do and great restaurants. She is in a dining group that checks out all the local BYOB restaurants on the North Side. She says "I have tried some food I cannot even pronounce the name but is always delicious. "
Sally started a neighborhood Euchre club that meets regularly and this summer she has signed up for three 5K walks along the lake. She states "It is a lot of fun to get out and be a part of the community. "
She loves to travel and feels lucky to have seen a lot of the United States. She has also been to Ireland, France, Italy, Mexico, and the Caribbean. She hopes to do more traveling.
Sally has three children: Trevor (33), Chicago; Haley (30), New York City; and Matthew (22), Cincinnati, OH.
Sally's parents are Ralph and Marilyn Torrance of Terre Haute.
She has four siblings: Martha, Macomb; Dan, Fullerton, CA; Jay, Story City, IA; and Casey, La Harpe.
Sally says her parents have been her most influential teachers, guides, and mentors. "I have been through many experiences and I always turn to them for their advice. I am lucky to have grown up in a small town with great values and community. "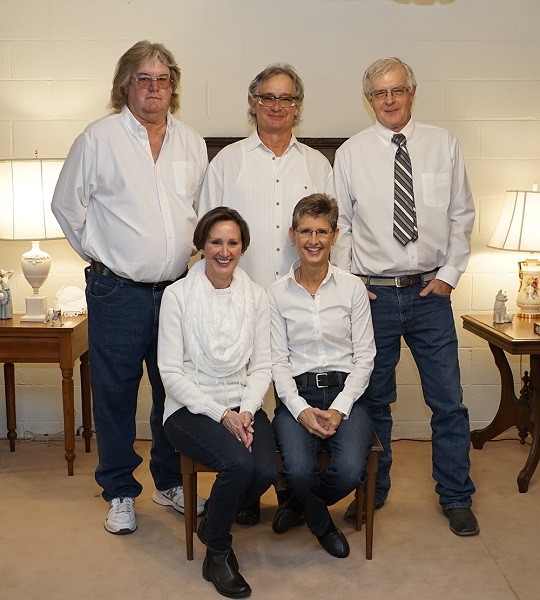 Sally is pictured with her siblings: Back row: Dan, Jay, and Casey; Front row: Sally and Martha. (Photo taken at their parent's 60th wedding anniversary last year)
---