The Hancock-Henderson Quill, Inc.
---
Honor Flight's Emotional and Memorable For Four Henderson County Veterans
by Dessa Rodeffer, Quill Publisher/Owner
Four Henderson County veterans said, it was a very exciting but emotional day, a day they will never forget.
Jim Alexander of Gladstone, brothers John and Dan Kane of Smithshire, and Ron Gipe of Media were not expecting the outpouring of support they received from the moment they arrived at the airport and throughout the trip.
"We were treated like royalty! It was unbelievable," Ron Gipe said.
Gipe said, as a Vietnam vet, we weren't welcomed home except by family and friends. He said when he went over to WIU and they found out he had served in Vietnam, they were all over him. You just didn't mention it.
Gipe served right out of high school at age 18.
"On May 21, 1968, I came home from school and had received my first papers to go take my physical."
He ended up enlisting in the United States Air Force, went to basic training January 1969 and was discharged June 1971 after being in Texas, Kansas, South Dakota, Guam and eventually a year in Vietnam.
In "Da Nang" I got lucky as I was drafted to help load planes as they were short of help. We loaded and unloaded everything, working 12 hour shifts at night-when it was cooler."
John Kane, Dan Kane, and Jim Alexander were drafted into the U.S. Army.
John served from 1966-67 in Germany, "a highly trained artillary man."
Dan served from 1970-72 in Vietnam where he said, 58,000 Americans were killed between 1965-'75. He was a mechanic and guard.
Jim served from 1969-71 in Germany in an anti-aircraft battery, "highly trained" to shoot down planes.
The group went out on an extra early flight 5 a.m. out of the Peoria International Airport May 8th due to the special V-E Day, ceremony awaiting World War II vets the first thing that morning held at the WWII Memorial.
For John, Dan, and Jim, it was the most moving thing they had ever experienced. The youngest WWII veteran in attendance was 91 years of age and all were in wheel chairs. They introduced each veteran with their name, rank, and service in the war, whether they were a gunner, mechanic, driver, from a Japanese internment camp, or African-American. All served. It was an hour and half ceremony and each one was applauded.
V-E Day, May 8th, has a special meaning for most WWII veterans (Victory over Europe). The speaker said, "For most WWII vets, they were just happy they made it."
He said, "The ceremony is not only to honor and give thanks, celebrate and show their profound admiration for them, but also to insure that future generations do not forget, and take inspiration from those who served in World War II, particularly on this VE Day in the European Theater to sustain our country and our safety."
The WWII Memorial is a wall depicting THE PRICE OF FREEDOM, holding 4,048 gold stars each representing 100 American service personnel who died or remain missing in that war.
The 405,399 American dead and missing from WW II are second only to the loss of more than 620,000 Americans during our Civil War.
On one corner of the WW II Memorial, President Harry Truman expressed it best:
"Our debt to the heroic men and valiant women in the service of our country can never be repaid. They have earned our undying gratitude. America will never forget their sacrifices."
Six others WWII veterans from the Peoria area were listed as Honorary members as they had died before they were able to take the fligh-names that are unfamiliar, but responsible for our freedoms.
The men said that each of the 60 veterans on the honor flight were accompanied by a guardian who paid $500 for the privilege to escort them. There was also a team of ten medical professionals-nurses, physician assistants, etc. in case of an emergency.
The 737 that flew them to Washington was piloted by a man who said he had also piloted the Space Shuttle with John Glenn in orbit on his last mission. "It was a very smooth flight," Jim said.
Each veteran was given a Honor Flight t-shirt, hat and a name tag with a long list of their itinerary on the back of the possible stops they would be making.
Their tags had the color of their bus they would be riding once they arrived in Washington DC. The four men requested to be together and were assigned the red bus.
Dan, and Ron were very impressed and emotional visiting the Vietnam wall where they both had served. They found Don Isaacson's name and Dan found his Captain's name and was able to do a rubbing for a keepsake.
They both felt lucky to have made it home from a war that took so many lives.
It was hard to talk for many as they viewed these memorial walls.
All of the men were impressed with the Korean Memorial and its life-like figures of just how it was.
And of course Arlington Cemetery-so quiet and serene-where a sea of servicemen and women were buried. Today, due to the cemetery space, you have to qualify to be buried there-killed in action, a purple heart or medal of honor recepient, etc.
And the guards at the tomb of the Unknown Soldier were changing and it was late enough in the day John said, they were able to see the "retreat of the flight" as the flag was lowered, folded and put away for the night.
They were overwhelmed with the the constant "thank you for your service" applause, hand shakes, even hugs from little kids, and chants of U.S.A.!
And the flight home included a surprise mail call with a packet of letters from school kids and from families that took several hours to read and brought tears to the strongest.
At Peoria, each veteran choked up at the 11:30 p.m. welcome of 2,000 people plus Illinois Governor Rauner. Dan said, 11 of his 12 grandchildren were there. John mentioned the Roseville firemen. It was an unforgetable day.
"It was 20 hours but we were still full of excitement and talked for days of the memories.
In reflecting:there are so many listed on the wall that never made it back!
(Guardians on the flight were Cindy Kane for Dan, Nancy Kane for Jim, Katie Arnold for John, and Eric Gipe for Ron.)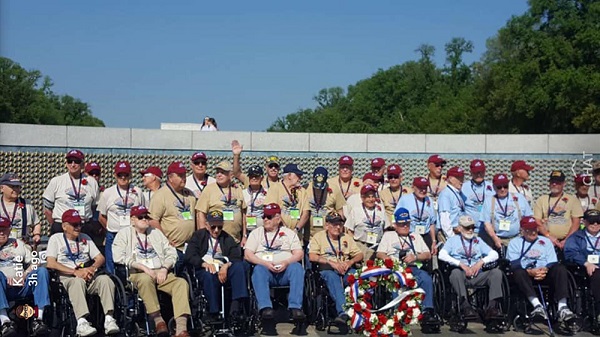 U.S. Veterans on the Greater Peoria Honor Flight stand in front of the World War II Memorial on May 8th, the very special VE Day (Victory over Europe) as they were privileged to be part of a special salute to honor World War II veterans early that morning. Seven of them were part of their flight.
---