The Hancock-Henderson Quill, Inc.
---
Squirrel Ridge Travel Opens In La Harpe
by Becky Smith, The Quill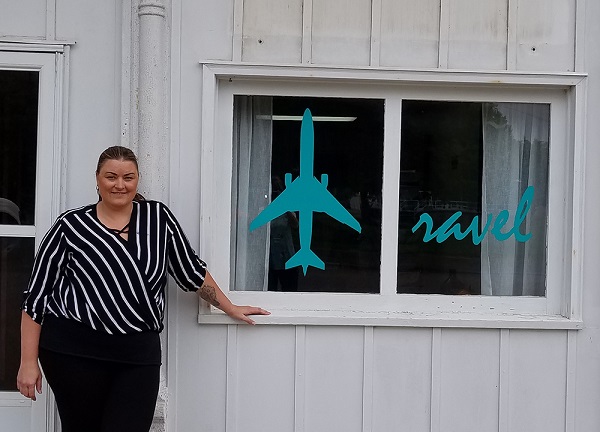 Squirrel Ridge Travel is owned by Cass DeJaynes, of La Harpe, and is located at 105 S. Center Street in La Harpe (across from the park in Kent Willdrick's old office).
Cass has a Bachelor of Arts degree, from Western Illinois University, and extended her education to Travel Agent Academy and Disney College of Knowledge.
Cass started training in December of 2013 and completed her required training to start January 1, 2014 in her new business as a travel agent.
Cass says "A lot of people locally are afraid of the unknowns of travel and I wanted to help bring my knowledge of travel with the safety and security of the travel industry to help others see the world. I had already seen what a joy it was to help friends with their travels and I really enjoyed it. So, why not help everybody?"
I worked out of my home office until last year. For 2017, I had a small office in Roseville in the back of L. Salon on Hwy 116. There are still brochures at L. Salon to serve the community.
My business has been a great opportunity for me to be available for my kids and has created a great work/life balance for me. I wasn't sure that this was going to even be a good business to be in until the last year or so. Travel has taken such a turn and people are afraid of certain areas of the world, people are getting scammed with timeshares and showing up to a resort with no reservation they paid for that there's just so much uncertainty in the industry that has lead people back to utilizing travel agent services.
Area travelers have come to me to help them with their travel needs as well as my clients from all over the US that entrust me with their travel details. A lot of my clients keep coming back and are referring their friends and family. Referrals are the biggest compliment you can get as a travel agent. I love working with people to make their travel planning easy and help ease their concerns."
Cass has minimal office hours; Tuesday and Thursday 9-3 and Saturday 9-11 but is available by appointment.
She says "Don't feel the need to meet to start your trip planning. I work with people all over the United States planning complex and detailed trips all over the world. There are so many great tools to make virtual travel planning easy.
The things people don't realize about utilizing the expertise of a travel agent is that it doesn't cost any more to use an agent for a trip than it does to plan it yourself. I don't charge fees to plan your trip. No matter if you book your trip through a tour operator like Apple Vacations or Expedia or through an agent, you're still paying a commission to someone. It's already built into the price. You're either giving the commission to the tour operator or having them pay it to your agent.
Another thing a lot of people don't know about travel is there are flexible payment options. A great deal of my clients utilize flexible payment options to make their dream vacation possible.
I have some exciting new luxury travel options available with great perks through my new contract with Luxevo Vacations. I'm still offering the same packages I always have from no frills to 5 star services. There's such a variety to choose from. Feel free to drop in and check out some brochures and dream a little. I have a great new bucket list program to help you plan to see all the things in the world you want to."
CONTACT INFO:
PHONE: 217-659-3774 or after hours 941-251-0373 ext. 4241
EMAIL: cass.dejaynes@squirrelridgetravel.com
WEBSITE: www.squirrelridgetravel.com
---