The Hancock-Henderson Quill, Inc.
---
Quilts For A Cause
By: Becky Smith, The Quill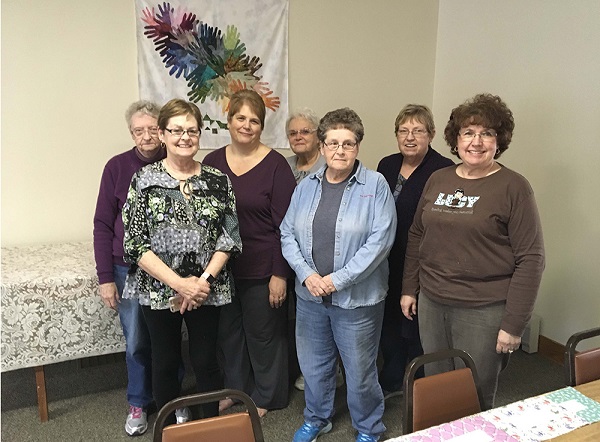 These ladies from the Lomax Christian Church are making a difference with their quilting skills. Pictured from left are: Pat Groth, Silvia McMeins, Tina Waterman, Sue Andrews, Mary Dennison, Maxine Dennison and Sharon Anderson.
What started as a response to Hurricane Harvey last September (2017) has grown into an ongoing project for a group of ladies based out of the Lomax Christian Church. This dedicated group of ladies have been making quilts to be donated to hurricane and other disaster victims.
Shortly before Christmas, the group sent over 50 quilts and blankets along with stuffed toys to Houston to an area that was particularly hit hard by Harvey. They recently sent another dozen to another area of Houston.
The group meets once a month at the Annex of the Lomax Christian Church.
Once the tops are completed, they are quilted by the "Barn Quilters" and Barb Merschman of Fort Madison, Iowa and bound by Jan Richers, also of Fort Madison.
This is truly a community project in partnership with the church. The next sewing day will be June 2nd starting at 9:00 a.m. Anyone is welcome to bring a machine and sew with them. For more information call 319-750-4666.
---