The Hancock-Henderson Quill, Inc.
---
Local Veterans Enjoy Honor Flight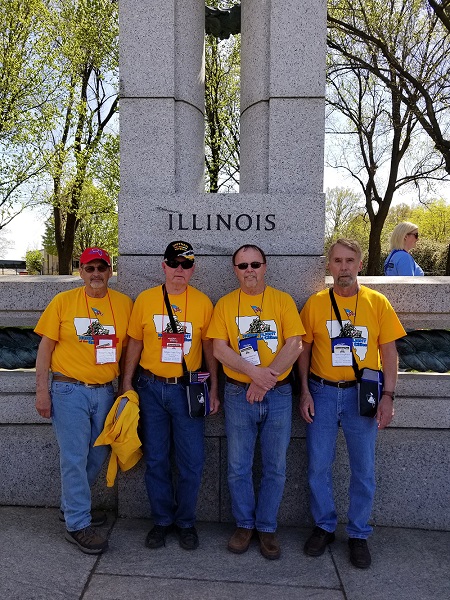 Four local veterans participated in the 43rd Honor Flight of the Quad Cities, on Thursday, April 26, 2018 from left:
Gladstone-
Robert Cravens,
Roger Van Tine
Mike Hopkins and Mike's brother of Oquawka:
Pat Hopkins.
All four men are Vietnam veterans.
The veterans departed the Moline Quad Cities International Airport at 7:00 a.m., and flew to Washington, D.C. with over 90 other U.S. veterans, from WWII, Korea and Vietnam.
They toured the Smithsonian National Air and Space Museum, the Lincoln Memorial, the Vietnam and the Korean Memorials, the WWII Memorial, the Air Force Memorial, and the Women's Memorial.
The group then traveled to the Arlington National Cemetery and witnessed the moving "changing of the guard".
The flight returned to the Quad Cities airport at 10:00 p.m. to a record breaking amount of people welcoming them home!
---